There's no need to join a gym for that stair-stepping machine. If you have even one single step in your home, you can create a convenient and effective heart-pumping workout.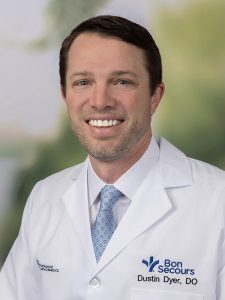 "There are plenty of ways to stay active even when the weather isn't as nice. Stair exercises can provide a simple and effective workout," Dustin Dyer, DO, of Bon Secours Tuckahoe Orthopedics.
Doing stair exercises at home is ideal when the weather is bad outdoors or you don't want to mingle with other sweaty bodies at the gym. Sweating on the steps is also great if you have only a few minutes to move your body.
Don't have steps in your house? No problem! Find a short flight of stairs, possibly in a park or other public space, to take advantage of this equipment-free exercise.
Benefits of a stair-climbing workout
You may not need any convincing that stair exercise is beneficial. After all, you already know how much of a workout it can be to walk up a flight of stairs.
Nevertheless, here are other benefits of exercising with steps:
Activates two core muscles, including the glutes and lower back muscles
Combines a cardio and strength workout
Improves your balance and coordination skills
Keeps knees safe because step work can be a relatively low-impact workout
Offers a whole-body workout
Strengthens weak ankles and feet when running up steps
A cardio-only stair workout
Stairs are perfect for cardio. Just run up and down them for a few three-to-five-minute sets. Beginners should start with one set and build from there.
You can also sprint up and down stairs, taking two or three steps at a time for an extra-sweaty session.
Here are a few more cardio stair workout ideas:
Jumps: Stand in front of a step, squat and jump with both feet on and off the step for a set of 60 seconds.
Side jog: Stand facing the railing. Go up the steps by stepping up the steps sideways. Work your way back down the steps the same way. Repeat each side three times.
Backward jog: This takes serious balance and coordination, so don't hesitate to grab the railing or side wall for support. Walk up the steps backwards. Come back down and go up again. Do five rounds.
A five-minute stair workout
Ready for a whole-body cardio and strength workout? It'll take only five minutes, but it will feel worth the intensity.
Follow this minute-by-minute routine:
First minute: Begin by stepping up and down off the bottom step for one minute.
Second minute: Do one minute of inclined push-ups by holding on to the first or second step, bending your elbows and completing a push-up.
Third minute: Stand up and jump up and down on the bottom step for one minute.
Fourth minute: Sit on the step, bend your arms back to the second step, lift up and do triceps dips for one minute (this works best if there's more than one step.) For a more intense workout, put your legs further out so you're putting more of your body weight on your arms to lift.
Fifth minute: Step back from the step and put one leg on the step. Lunge forward. Do one leg for 30 seconds, switch and do the other leg for 30 more seconds.
Also, learn about the orthopedics and sports medicine services we offer at Bon Secours.