For longtime Wren High School football coach and athletic director Jeff Tate, throwing is a way of life.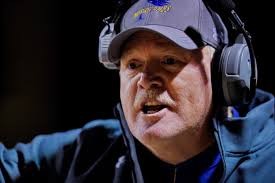 "Far back as I can remember, I've always thrown something – either rocks or a ball," he laughs. "I started playing sports as a kid – I was a pitcher and shortstop then played centerfield in baseball. I always played quarterback – so pretty much throwing my entire childhood. Even in my career as a coach – my whole life has been about throwing."
The wear and tear of constant motion took its toll, but an injury while playing in college was what pushed Coach Tate to eventually have surgery in 1989. Unfortunately, it didn't fix the problem and was an experience he didn't care to repeat.
"I made up my mind that I wasn't having anything else done to my shoulder. It just hurt too bad and was too painful, so I would just deal with it."
That's exactly what he did for the next three decades. By 2020, the coach's shoulder problems had grown from a challenge to overcome into something nearly unbearable.
"I couldn't lift my arms higher than my chest," he recalls. "I couldn't even reach up to touch my face unless I bent my head down – that's how bad it was. When you start losing your independence, you have to start asking people to do things you know you should be able to do, it's aggravating."
Based on several recommendations, he went to see Dr. Shay Koch, MD, (pictured above, right) at Bon Secours Piedmont Orthopaedics. Upon seeing the severe amount of arthritic change to his joint, Dr. Koch knew exactly what treatment option could provide relief.
"His case is exactly what the GPS-guided shoulder replacement system is all about," Dr. Koch explains. "I use a preoperative CT scan to build a 3D rendition of his shoulder on a computer. I can then plan exactly how much bone to remove and what type of implants to use. I can adjust this to plan how much motion we can obtain afterwards as well. I then take this plan to the operating room and use the computer to guide the replacement through the GPS system. This gives someone like Coach Tate the best possible outcome even with his severe shoulder arthritis."
While Coach Tate may have been reluctant to give surgery another go, he now looks back on it as one of the best decisions he ever made.
"I got to where I could throw a football again, and that was my objective," he shares. "For me, being involved in athletics, that was just one of the things I've done my whole life that I was excited to do again. To this day, I can still throw, and it doesn't hurt or bother me."
After the first successful shoulder replacement in January of 2021, Coach Tate decided to fix the other shoulder in December of 2022. These days, he's feeling like a brand-new man.
"I can lift my arms straight up in the air, and I have much more function. My strength is back. I can rest at night better. I don't have to ask someone to get something off a shelf or pick this up and move it anymore. I can handle it myself – I like having my independence back. So, quality of life has gotten so much better because of surgery. I had no idea I could feel this much better."
While he understands the reservations many people may have about going under the knife, Coach Tate says it really can be a game-changer for your health.
"For anyone who is thinking about it or considering it, give Dr. Koch or someone an opportunity to correct the problem. You may just find out that you can get back to doing your normal activities in a pretty short time."
At Bon Secours, we offer a variety of treatment options to help you move without pain and regain stability so you can get back to doing the things you love.
Learn more about the orthopedics and sports medicine services we provide.