Brittany Siller, CPNP-PC, a pediatric nurse practitioner at Bon Secours Pediatrics of Richmond, answers some commonly asked questions from parents about how to use DEET, an insect repellent, safely on children during outdoor activities that take place in the summer and fall seasons.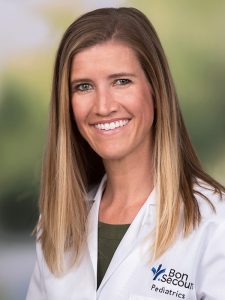 What are some guidelines to follow when using DEET on children?
Choose a repellent containing no more than 30 percent DEET. Apply only once per day and follow the directions on your product label to ensure it is applied safely.
Is there a safe age recommendation for DEET?
Insect repellents with DEET should not be used on children under two months old.
Are there any health risks or precautions to be aware of when using DEET?
The best way to prevent side effects of DEET is to apply it correctly. However, even when used correctly, some children can suffer from skin irritation or rashes following DEET use.
If that happens to your child, wash skin well with soap and water. If you are concerned your child has ingested or inhaled DEET, contact your local poison control center immediately.
Any tips for when you are applying DEET?
Again, just be sure to follow the directions on your product label and store out of reach of young children. Apply on the outside of clothing and on exposed skin only.
Only use bug sprays outside in a well-ventilated area to avoid inhalation – do not spray into face. Instead, spray into hands and rub into face. Also, avoid applying on hands, eyes and mouth to prevent ingestion, and avoid broken or irritated skin. And don't forget to wash DEET off skin with soap and water when returning inside.
Do you recommend any other repellents that do not include DEET for kids?
If there is a serious risk of insect-borne illness, repellents containing DEET or picaridin are going to be more effective. Other more natural alternatives include citronella, geranium, peppermint or soybean oil. Please consult the American Academy of Pediatrics (AAP), Environmental Protection Agency (EPA) or your child's pediatrician for questions regarding safety, efficacy or any other specific questions.
Are there any other products for outdoor safety that you recommend for children to use?
Sunscreen, sunscreen, sunscreen! The American Academy of Pediatrics (AAP) recommends sunscreen with SPF 15 or greater for all infants six months or older – and don't forget to apply every two hours as well as after swimming or sweating.
Learn more about the pediatric services we offer at Bon Secours.