Meet Sr. Marie Kerns, RSM! She lives the calling to alleviating suffering and promoting the education and well-being of those in need each and every day.
Sister Marie's early life

Marie Kerns was born in the suburbs of Philadelphia, Pa. Her mother, Marie, and father, Joseph, welcomed her into the world as the last of six children. Her father suffered a premature death at the age of 49 when Marie was only 9 years old. Her mother and older siblings managed the household and thrived despite the challenges they faced.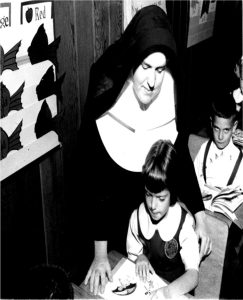 In her late teens, Sr. Marie felt a deep call to serve those around her. After graduating from high school in 1954, she joined the Sisters of Mercy in 1956. She professed her final vows of poverty, chastity, obedience and service to the poor and unfortunate as a Sister of Mercy in 1959. Her first appointment was at a school teaching first grade and while she was successful, this did not fulfill what she felt called to do, which was nursing.
From there, Marie decided to purse nursing and enrolled in Gwynedd Mercy College, where she received her registered nurse designation. In addition, she received a bachelor's degree in education from Villanova University. Later in life, she attended Loyola University, where she earned her master's degree in pastoral studies.
Sister Marie's career

Her first nursing position was at Fitzgerald Mercy Hospital in Darby, Pa., where she worked on the medical surgery unit. Sr. Marie then found her way to hospice nursing, which has always been a passion of hers.
In response to a request by the Sisters of Mercy for a three-year commitment to serve in the southern United States, Sr. Marie chose Richmond, Va. after prayerfully considering several options. She arrived in Richmond in the fall of 1982 and was hired as a hospice nurse at Retreat Hospital. From there, she was soon promoted to a head nursing position on the oncology unit.
While Sr. Marie excelled in this role, she still felt led to be caring for patients at the bedside.
A few years later, while attending a community meeting at Bon Secours St. Mary's Hospital, she noticed a posting for a position as a hospice nurse with the home health. She applied for the position, and shortly after began her career with our ministry!
After 15 years as a hospice nurse and serving many patients, Sr. Marie transitioned to director of patient advocacy in 1999. After leading the department for a few years, she became the risk manager and held this position for several years.
Again, responding to what she felt God calling her to do, Sr. Marie took a chaplain position at Memorial Regional Medical Center. Since 1998 she has faithfully served the center's patients as chaplain and took on the additional role of director of ministry outreach, which requires many hours of on-call and late nights to attend to the needs of patients and staff in times of distress.
In addition to these responsibilities, she also served the Care-A-Van by visiting their sites, offering prayerful support to patients as well as team members and has served on many committees.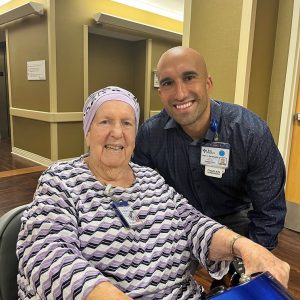 Sr. Marie was also instrumental in establishing the first pet therapy program at the hospital. She has a love for dogs, especially her beloved McCauley who passed away a few years ago. She now has a dog named Benet. Pet therapy is yet another example of how her passion for providing holistic care is brought to life in service to others.
She now continues to work as a PRN chaplain, meeting the needs of our patients and team members while spreading God's healing mercy.
Continuing to serve those in need
Sr. Marie is an inspiration to everyone she meets, and shared with us the following story which illustrates her approach to life.
"I was caring for a patient who was in hospice and nearing the end of his life. During a visit, he was watching The Wizard of Oz and asked me to promise to let him know when he was going to die. I thought about this and responded that no one knows exactly when they are going to die, but if I saw signs of this, I would tell him.
After a few more months of caring for this patient and watching him grow weaker, I noticed that his end was imminent. After my visit, I leaned over the patient and whispered into his ear that he would not likely see the dawn of another day, and that God would be there waiting for him at the end of his 'yellow brick road.' The man quietly responded with a raspy voice and, unable to hug me back, said, 'I guess it's OK to die when you can't hug anymore.'
The message for me was clear: live life to the fullest so that when your time comes, everything will be OK and you will have no regrets."
We celebrate and thank Sr. Marie Kerns. What started as a three-year commitment in 1982 has ended up being a life of service for 42 years. Her commitment to our ministry is unsurpassed and we're grateful that she brings the charism of the Sisters of Mercy to us.
Learn about the health care services we provide at Bon Secours.