After faithfully serving Richmond's uninsured and underinsured community for more than 25 years, the Bon Secours Care-A-Van is getting an upgrade!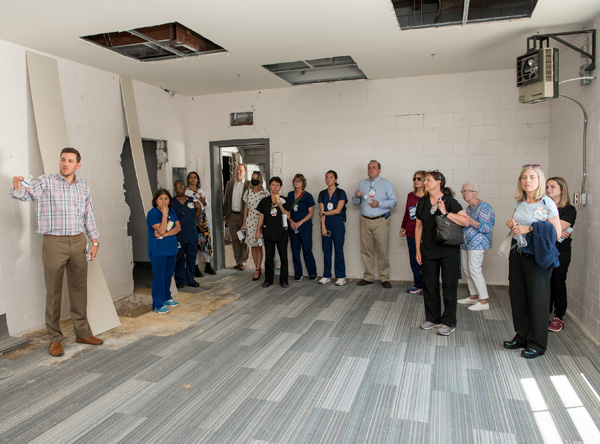 While the Care-A-Van, our ministry's mobile health clinic, will still operate around the community and provide free medical care to our most vulnerable populations, soon uninsured patients will be able to access the quality, compassionate care we are known for in one convenient location.
Last week, we announced plans to renovate a two-story, 8,000-square-foot space in the Manchester area to serve as the first-ever fixed site of the Bon Secours Care-A-Van. The Bon Secours Community Health Clinic, Manchester, at the Center for Healthy Living will be the name and the facility will open in early 2023.
Bon Secours recognizes that the factors that drive individual and community health extend far beyond the walls of our hospitals. That's why our community health team is focused on addressing the social determinants of health in the communities in which we live and work. These determinants include health promotion, job creation, food access, transportation, education and affordable housing.
The Bon Secours Community Health Clinic in Manchester will provide medical care to uninsured and underinsured adults and children, including primary care, chronic disease management, women's health services and behavioral health services. In keeping with our ministry's mission, the clinic will also promote well-being and connect individuals and families to sustainable resources to support their unique socioeconomic needs.
As for the physical space, the clinic will feature eight exam rooms and an on-site lab. It will be located within two miles of three of the highest volume Care-A-Van mobile clinic sites at 2301 Everett St.
"When we set out to establish the Bon Secours Community Health Clinic, we had a lot of considerations in mind," Becky Clay Christensen, executive director for community health in our Richmond market, shares. "Our focus was finding a location that would be accessible to our current patient population, knowing that transportation is a social determinant of health."
She continues, "we felt strongly that renovating an existing space rather than building new construction would align well with our efforts when it comes to investing in the revitalization of our communities, especially our new efforts in the Manchester community."
As for the actual Bon Secours Care-A-Van, it began serving the Richmond community in 1994 with one van and a sole focus on children's immunizations. Today, it operates five days a week providing primary, urgent and preventative care to uninsured adults and children throughout the region in partnership with churches and other local nonprofits where trust has already been established. Staffed by our physicians, nurses and social workers, the Care-A-Van provided care to more than 13,000 patients last year alone.
"We are grateful for the opportunity to bring all of the services we currently offer on the Care-A-Van to our patients and community in one fixed location," Paula Young, MD, medical director for the Bon Secours Care-A-Van, shares. "This clinic will be outfitted with new equipment and the latest medical technology, which will enhance our ability to provide the quality, compassionate care we are known for to this community now and for many years to come."
Chris Accashian, chief operating officer for Bon Secours – Richmond, adds, "we can't wait to build on the important work our community health and Care-A-Van teams have been doing for our most vulnerable populations for more than two decades and we look forward to coming back together in early 2023 to celebrate the grand opening."
Our ministry's other recent community health work in the Manchester area includes:
The Bon Secours Community Health Clinic, Manchester, is being made possible through the generosity of donors to the Bon Secours Richmond Health Care Foundation, which will continue to engage donors to fundraise for this important program. 
Learn more about the health care services we offer at Bon Secours.