"First day back volunteering after a year off. Feels good to get back into the swing of things and to assist the hospital."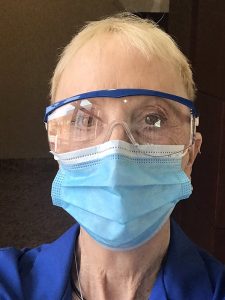 Cary Wing shared this tweet back on April 8 of this year. As a life-long volunteer, she was eager to get back to her post at Bon Secours St. Francis Medical Center since the start of the COVID-19 pandemic.
"Volunteering is in my DNA," Cary shares. "Both my mother and grandmother were active volunteers in their communities, and I began to follow suit in high school as a candy striper at the hospital in Williamsburg."
These women were Cary's role models in every sense of the word. They helped lead Cary to her belief that assisting organizations gives her purpose. Today, Cary has many causes near and dear to her heart.
"I have had the opportunity to volunteer and work with a number of organizations throughout the years. The most notable while living in New York was as Chairman of the Board of the AHA in Dutchess County, as well as the Area Fund of Dutchess County. I also have been, and remain, an active volunteer for the American College of Sports Medicine, which is my professional organization."
Since returning to Richmond, VA in 1998 by way of Florida, Cary has volunteered for numerous other organizations. However, she has the most interesting story of how she got her volunteering start at St. Francis Medical Center.
"My journey with Bon Secours started about four years ago as I was being wheeled out of same day surgery by a volunteer," Cary shares. "We started talking and I asked him about what he did at the hospital. He was so enthusiastic that I knew then that I was going to contact St. Francis and find out more about helping out."
For the past four years, Cary has volunteered in general services at St. Francis Medical Center one afternoon shift a week. In her role, she escorts discharged patients from their units, does lab runs and delivers flowers and packages from the front desk to patients.
"Basically, I run any type of errand that is needed by the health care team and staff," Cary says. "We are always busy and engaging with each other on duty that day, as well as with staff, patients and visitors."
Despite Cary's busy schedule, she somehow finds some free time to enjoy one of her favorite hobbies: exercise.
"I am an avid walker/jogger and also enjoy kayaking and biking. As a certified health coach, it is important for me to be an example for others and encourage everyone to live a healthy lifestyle," she says.
Cary also loves to dance and listen to music. She recently purchased a keyboard and is getting back into playing the piano again.
For individuals thinking about getting into volunteering, Cary's advice is simple: don't hesitate.
"Decide where you might want to volunteer and find something that interests you. There are so many ways to help organizations and others in our communities. Just be sure to take the first step."
Overall, Cary finds that volunteering not only helps others but makes her a better person too.
"I enjoy helping people and putting a smile on the faces of those I interact with. However, they also put a smile on my face!"
She adds, "engaging with others is so important. During this difficult last year filled with social isolation, connecting in some small way with each other helps us see the light at the end of the tunnel."
Learn about the volunteer opportunities we offer at Bon Secours.