Kristen Caluag, an informatics nurse specialist on our shared services team, is an Air Force veteran who, today, is a reservist and military spouse.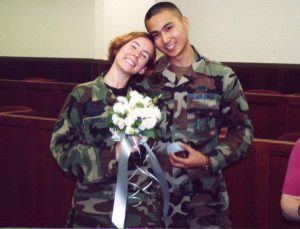 "I dropped out of college and enlisted in the Air Force at 20 years old, driven by some sort of nagging desire that is difficult to explain," Kristen says. "It is single best decision I ever made, as it drastically changed the trajectory of my life, gave me a sense of purpose as well as mission that has held strong ever since, and also led me to my husband and future family."
It was her connection to mission that ultimately led Kristen to nursing with our ministry. Kristen lives near Bon Secours Mary Immaculate Hospital, the facility where she first started out with us.
"When we moved here, I heard from fellow nurse military spouses that Mary Immaculate Hospital was the place to be if you wanted to work as part of a team with a shared mission and community," she says. "It is actually the only hospital I applied to, and I could not believe my luck when I was offered a position. It felt meant to be. I hold the ministry's Mission close to my heart and am always looking for ways to contribute."
Kristen served in the United States Air Force from 2001 to 2006, then the U.S. Public Health Service from 2012 to 2014. From there, she rejoined the U.S. Public Health Service in 2022 as a reserve clinical nurse officer.
It was anything but a straight path to her dream to work in health care.
When she first enlisted with her interest in health care, the wait would have been months for a medic spot to open up. So, Kristen chose to start her military career as a utilities system apprentice, the equivalent to a plumber who also works on gas lines and fire suppression systems.
Kristen was stationed in Ellsworth Air Force Base in South Dakota, Misawa Air Base in Japan and Travis Air Force Base in California. She also deployed to Pakistan as part of Operation Enduring Freedom. While serving she married her husband, Matt, who continues to serve in the Air Force, and gave birth to her first child.
Discharged in 2006 as a staff sergeant, Kristen left the military to pursue her nursing education and focus on being an Air Force spouse as well as raising her children.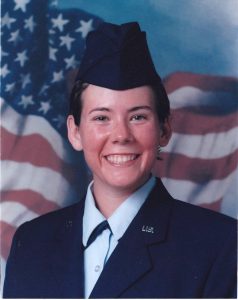 Moving frequently, and worldwide, has afforded Kristen the opportunity to try a variety of nursing fields. She has typically picked a different specialty at each location because she loves learning and trying new things.
She served at Mary Immaculate Hospital as a med-surg clinical care leader. Since then, she has transitioned to a position where relocation would be a bit easier. However, her family loves living in Virginia, and she will always consider Mary Immaculate Hospital her "home hospital."
Additionally, Kristen says it's our ministry's support for veterans, military spouses and reservists that makes all the difference.
"Currently living all three roles – veteran, reservist and spouse – one thing I want to call out that may not get as much attention is that my bosses have always been incredibly supportive of my role as a military wife and mother in terms of encouraging and enabling me to prioritize family and emotional well-being, particularly during Matt's deployments. I also want to give a shout out to my awesome nursing informatics colleagues who cannot volunteer fast enough to help with my responsibilities when trainings or deployments pop up."
Thank you to Kristen as well as all our other veteran team members for your service to our country. Read more stories about our veteran team members.
Also, learn more about the health care services we offer at Bon Secours.