New parents look forward to bringing their baby home with them from the hospital. But on occasion, problems arise. Some babies have to stay longer than expected in the neonatal intensive care unit (NICU) before being discharged. That's why, even if your baby isn't premature, parents should know what level of care their hospital's NICU provides.
This is a lesson that Kristin Richardson learned the hard way. With little Zac being her fourth child, Kristin thought she had already been through it all. Unfortunately, he decided to make his debut on March 2, 2021, five weeks earlier than anticipated.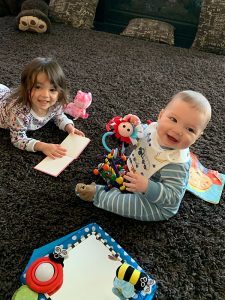 "I honestly never even looked into the NICU facilities when choosing Bon Secours, as I never thought that we would use it, but I'm so glad that it was there for us when we needed it," Kristin shares.
Bon Secours St. Francis Eastside is home to a Level II NICU, meaning it has the personnel and equipment needed to provide care to infants born at 32 weeks' gestation and weighing more than 1500 grams.
"We have neonatologists in the hospital 24 hours a day to provide the highest level of care for their sweet little bundle of joy," says Dr. Sue Miller, MD, our medical director of neonatology. "It can be scary and stressful to have a baby admitted to the NICU, but parents should know that we are on this journey with them. As a team, we work hard to treat the babies and families like they are our own."
The NICU at St. Francis Eastside is designed to help make families comfortable during what can be a challenging time. The facility includes private rooms, equipped with a bed for a parent to sleep in, breast pumps for mothers who want to provide breast milk, as well as a comfortable chair where parents can rock their baby. There's also a kitchen with a refrigerator and microwave for parents who want to bring their own food.
"We practice family-centered neonatal care," Dr. Miller adds. "Our entire unit is built around the knowledge that both babies and moms recover quicker if they are able to be together."
Kristin said the effort to keep her and her new child connected was evident, with staff members even going the extra mile of placing her in the room closest to the NICU. She says it was that thoughtfulness and compassionate care that made the unexpected challenges of having a NICU baby easier.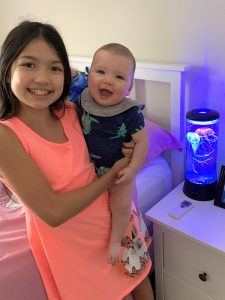 "I'm used to holding them and being their primary caregiver from the get-go. This time, I was putting the care of my child into their hands, which I'd never thought I'd have to do," Kristin remembers. "However, they patiently answered my repetitive questions and would stay as long as I needed them to. It felt like this was their baby and we were part of their family. Everyone made me feel at home. In fact, one of the nurses even made my bed one night before I got there. She pulled out the little bed and added a chocolate – it totally made me cry, it was so sweet."
Brand-new moms and dads with babies in the NICU often feel helpless. However, at Bon Secours, we do what we can to keep parents involved.
"From the moment the baby can tolerate it, parents are taught to change diapers, take baby's temperature and feed the baby if she/he is taking a bottle. Our team works with parents to help them stay involved in their baby's care and to help them be ready for the transition to home," Dr. Miller says.
Kristin says that she felt very involved with Zac's care during his two-week stay in the NICU.
"They tried to allow me as much control as possible. If I wanted to do something, they would try to make it happen – even letting me use the special lotion or diaper cream that I like to use instead of what the hospital typically has on hand."
Our team members are also mindful when parents are unable to be at the hospital with their baby, even providing a "milestone ribbon" to parents for important moments like when the baby comes off oxygen or has their first bath. Even if parents were present for the moment, they're able to take the ribbon home as part of the memory kit from their child's first few days or weeks.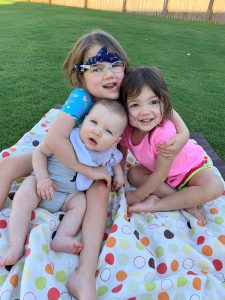 These comforts and reassurances don't end once the hospital stay does. This was something Kristin was especially grateful for.
"I'd never been nervous to bring home a baby before, especially with him being my fourth. I wouldn't think I'd be nervous, but I was. I voiced those concerns with the nurses, and they reassured me they were still there for me to call with any questions, even not being a patient anymore. It was nice to have that lifeline that I felt like I could call. Not only are they incredibly knowledgeable and dedicated to the care of tiny humans, but as a team they are uplifting, encouraging and accommodating."
Zac was able to leave the hospital March 16, 2021 and head home to meet his three older sisters for the first time. And now, nine months later, Zac is doing great!
"He recently started crawling. He also loves his sisters and is eating foods," Kristin says. "Our NICU experience is becoming a distant memory."
Kristin adds that this holiday season she's thankful for the care he received and grateful to have her family healthy and under the same roof.
Learn more about the neonatology services we offer at Bon Secours.