Last year was a rough one for most people, including Kyan Barnes. She suffered a miscarriage and then had to postpone her wedding plans due to the pandemic.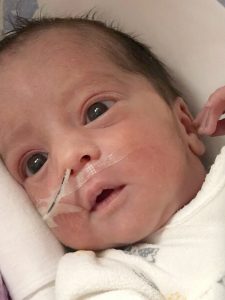 Like many of us, Kyan had high hopes that 2021 would be different, especially as her due date with her new pregnancy was just two months away. However, 11 days after ringing in the new year, Kyan found herself fighting for her life in a hospital intensive care unit (ICU) bed.
Kyan's fiancé, John Sjursen, took her to the emergency room on Jan. 7, 2021 after she started having pain in her legs. When they got there, they were in for quite the surprise. Doctors determined the leg pain was linked to dehydration, a result of a much more serious diagnosis – Kyan tested positive for both the flu and COVID-19.
"I was a mess. It was horrible. There were just a lot of emotions going on," remembers Kyan, who was told she'd have to have a C-section. "I had no idea I had COVID-19, and I was not ready to give birth. I was only 33 weeks along, so I was not prepared for that yet."
With Kyan's COVID-19 symptoms growing worse, doctors knew the clock was ticking. Her already complex pregnancy would have been complicated further if her respiratory status declined. Doctors knew they'd also be able to treat Kyan more aggressively once the baby was safely delivered.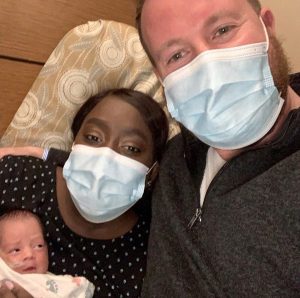 "She was very anxious about having a C-section, as she was unsure her fiancé would be able to accompany her in the OR, and she had no other close family in town. The team just tried to reassure her that we had her best interest at heart," explains Brandi Alt, DO, the Bon Secours OB-GYN who met the couple shortly after their miscarriage in 2020.
"It was very gratifying to see Kyan in the office, help her make the decision to try to conceive again, and then to see things come full circle and deliver a healthy baby for her," Dr. Alt adds. "She had a very complex pregnancy, but I was happy to be a part of the journey."
Fortunately, John was able to be part of his daughter's arrival, too. Though he was sent home upon the discovery that Kyan was COVID-19 positive, he was able to rejoin her for the birth of their baby girl, Zoey, after his own test came back negative.
Unfortunately, the elation over welcoming their little girl into the world was short-lived as the family was sent their separate ways. At just 3 pounds, 5 ounces, baby Zoey had to go to the neonatal intensive care unit (NICU). John – yet again exposed to his COVID-positive fiancée – was forced to return home to quarantine. And Kyan, growing sicker by the minute, was transferred to one of the COVID-19 units at Bon Secours St. Francis Downtown, where she could receive a higher level of care.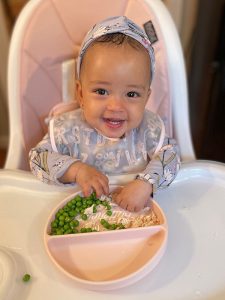 "It got so bad on my birthday, Jan. 11, that I couldn't even breathe on my own," Kyan recalls. "They called John telling him I wasn't doing well, and I was freaking out about what would happen with my baby. I've heard some people talk about having an out-of-body experience, and that's exactly what happened to me. I knew in that moment that I could not just lie there, because I have to see my baby."
Kyan wasn't alone in her fight to live. Reba Miller, a registered nurse, was helping take care of Kyan and other COVID-19 patients in her unit.
"She told me her story of delivery and how she wasn't even able to do the skin-to-skin that most mothers do," Reba recalls. "That just touched my heart, and I was like, 'well, we're getting you home. You're going to be taking care of that baby no matter what we have to do.'"
Kyan pushed herself every day, from the moment she'd wake up, to get up and get moving. She credits Reba with helping get her back on her feet.
"She was so great. She really helped me out a lot, and it definitely impacted my outcome," Kyan shares.
Reba wasn't the only staff member who went the extra mile to get Kyan reunited with her family. Sue Miller, MD, director of neonatology at Bon Secours St. Francis, teamed up with the hospital chaplains to help Kyan reconnect with her family from afar.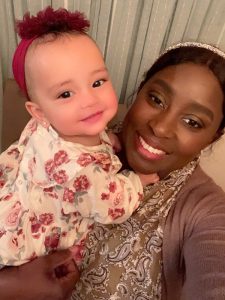 "In the NICU, we are committed to family-centered care, and with the pandemic, we have to be creative," Dr. Miller says. "We knew Kyan was unable to visit, so our team worked together with the chaplains to set up some video visits between her and the baby. It's amazing to be a part of a team where everyone cares about the family as much as we do!"
Father Jonathan Duncan was the one who first suited up to help make the virtual reunion possible. He calls the experience priceless.
"It was worth putting on the personal protective equipment to be able to see the look on the mom's face, even under her breathing mask, as she was able to see her little baby," he shares.
The virtual visits became daily motivation for Kyan. Every day at 1 p.m. the staff would connect her with both baby Zoey and her fiancé, John, so they could see each other and get updates on how Zoey was doing in the NICU.
"It was definitely something to look forward to, and it helped 100 percent – that was the only reason I was not dead honestly," Kyan says. "Seeing her face every day gave me so much. If it wasn't for her, I don't know if I would've made it. Seeing her little face just made me really want to push and fight this virus."
Fight she did, and Kyan was finally released from the hospital on Jan. 16. After a few days of quarantining, Kyan was finally able to reunite with John and her newborn.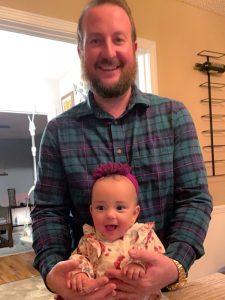 "It was the first time I'd seen John since giving birth. It was also my first time seeing Zoey and being able to hold her. It was very emotional, but we were very happy in that moment," Kyan recalls.
John adds, "I was just so happy both of them were better, and that I was finally able to see them."
Now, at the end of 2021, Kyan and John are in the middle of planning their wedding for May 2022. As for Kyan and Zoey's health, they are both still doing great.
"Zoey and I are both 100 percent healthy and happy," Kyan shares. "Additionally, I am very grateful that I have no long-term symptoms from COVID-19 anymore."
Learn about the health care services we offer at Bon Secours.