For Daniel Green, this Father's Day will be the first time he gets to celebrate the holiday as a dad. Daniel recently became one when his wife, Jenna, gave birth to their baby at Bon Secours St. Mary's Hospital.
"Becoming a father has filled me with levels of love and pride that I didn't know I was capable of experiencing," he shares.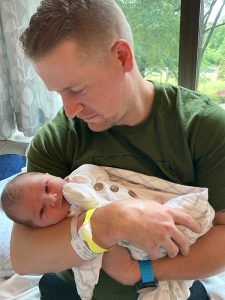 In addition to the many concerns and anxieties that expectant couples have leading up to the birth of their child, Daniel and Jenna had another big worry: COVID-19. This concern was heightened for them because Daniel was not able to work remotely during the pandemic. As a result, he was constantly exposed to others.
"A few of my colleagues contracted COVID-19, which made me very fearful of bringing it home to my pregnant wife and unborn child. There is still so much that is unknown about the virus and how it affects people. I didn't want to hurt my wife or the baby, so the unknown really caused anxiety and some sleepless nights."
Besides threatening the family's health and wellbeing, the pandemic also greatly affected the care team that worked with Daniel and Jenna because of new safety restrictions that had been put in place. Early on in both the pregnancy and pandemic, Daniel wasn't always allowed into Jenna's medical appointments. While he completely understood the reasoning, at the same time he felt sad to be left out.
"I didn't want to miss a single thing," he recalls.
Our care team had to get creative when it came to keeping fathers like Daniel involved, but also staying mindful and diligent about safety precautions.
"We had dads on Facetime, video chat and speaker phone during office visits," says Lee-Ann Parker, a member of Daniel and Jenna's care team at St. Mary's Richmond OBGYN. "Involving them actively through these platforms helped in a small, yet meaningful way to keep dads involved."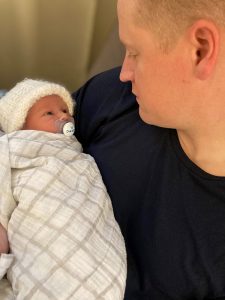 As the delivery date got closer and closer, Daniel shares that our care team helped prepare them in every way possible.
"We always felt that every little concern or question we had, no matter how silly it felt, was answered with the utmost professionalism and warm kindness that anyone could hope for. Our labor and delivery nurses, Courtney Nester and Katie Leighton, and our midwives, Dana Taylor and Lee-Ann Parker, were all incredible."
Daniel and Jenna felt completely supported. They both were able to stay calm and reassured throughout the entire process, including on the day of delivery.
"Our experience would not have been as pleasant without the enthusiasm and words of encouragement from the care team," says Daniel.
When asked if he had anything to say to other couples who are preparing to go through the delivery process at St. Mary's Hospital, Daniel encourages them to ask all the questions, document every moment, be present and supportive of your partner, and stay hydrated.
"And definitely order the fudge brownies," he adds. "The brownies are to die for!"
Learn more about the maternity and birthing care services we offer at Bon Secours.