Ernest "Sandy" Purcell contracted COVID-19 just after Thanksgiving in 2020, prior to any vaccines being available and during a time in the pandemic when hospitals were filling up.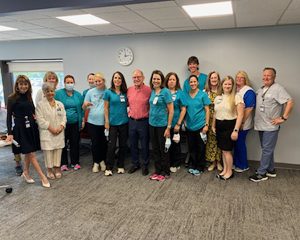 The family was at their vacation home in the Dominican Republic when it became clear the local hospital was ill-prepared to treat his case. Realizing that his situation was dire and he needed to be flown back to the United States, Sandy's family started looking for a hospital in the United States. Through the help of local connections, he landed at Bon Secours St. Francis.
There, Sandy successfully recovered from COVID-19, but he was then left facing other challenges.
"I was in a bed with muscles that were completely atrophied," he recalls. "I couldn't raise my legs to get out of bed. I couldn't even lift my arm to scratch my face."
Sandy needed intense physical therapy for his body to function again. Thankfully, the rehabilitation services at Bon Secours St. Francis were the perfect fit for him. Our rehab teams worked with Sandy to rebuild muscle and relearn how to eat and drink, walk up stairs, dress himself, even shower.
"The amount of energy it takes you to do those things is unbelievable for someone who doesn't have the respiratory strength or muscle," Sandy shares. "It's something we definitely take for granted!"
Sandy considers himself lucky he not only survived COVID-19, but that rehab was able to get him recovering to his old self.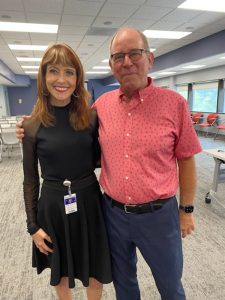 After the whole ordeal, he knew he wanted the opportunity to meet with the people who took care of him and helped him regain his strength.
"We were able to have pizza brought in for the staff at the hospital, and it was a great opportunity for me to thank the caretakers who took care of me," Sandy says. "I think 20 or so people showed up – from doctors and nurses to members of the rehab teams. It was delightful to be able to thank them for all that they did for me, and it also gave them the opportunity to see that their hard work results in very good outcomes."
Today, Sandy is doing much better. He continues to work hard to build upon his respiratory strength and muscle and holds close to his themes of "prayer, care, motivation and dedication."
"I am exercising three to four days out of the week to try and get back to where I was before all of this happened," he explains. "You have to be motivated and dedicated to getting in shape and getting past whatever it is that you're going through. So really, that's what I've been focused on, and so far, it's been working great."
Learn about the physical therapy and rehabilitation services we offer at Bon Secours.