June 19, 2021 will mark one year since Mandy Powell tested positive for COVID-19, a diagnosis that nearly claimed her life and had a huge impact on her entire family.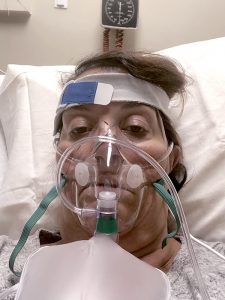 "Even if you have not been affected by this personally, it is so real," the 54-year-old shares. "I wouldn't wish what I went through on a single soul."
Mandy continues, "when my daughter dropped me off at the hospital that day, nowhere in my mind did I think I better give her an extra long hug. I just told her I loved her and that I'd call her, but I didn't have an inkling of what was to come. I was on a ventilator within the next 24 hours."
During her two-month stay at Bon Secours St. Francis Downtown, Mandy was on the ventilator for weeks and had to be resuscitated more than once. While there, her father was also hospitalized with the virus and eventually succumbed to the illness. This is why Mandy says COVID-19 was devastating to her entire family, even those who remained healthy back at home.
"It affects not only the patient but the whole family – horrifically," she says. "My family was just very lost and afraid of the unknown. I was intubated, extubated and unable to talk to them most of the time. Then they had to bury Daddy and I had every complication known to man, so they thought they would more than likely have to bury me, too. They just went through so much mentally."
Unfortunately, their situation is not uncommon. Just ask Julia Payne, MD (pictured right). She's been working on the frontlines of the pandemic, treating COVID-19 patients in our intensive care unit (ICU). She says there is just one word to describe what she has seen – heartbreaking.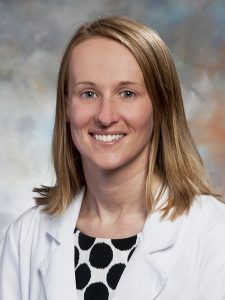 "What's hurting us all is that, as human beings, when we go through tons of extreme stress or tragedy, what we want is our family and our support system," explains Dr. Payne. "However, because of the infectivity of this virus, that's been so risky that people's normal support systems have been separated from them, so they do experience worsened panic, anxiety and fear."
Fortunately for Mandy's family, she did get better and was able to return home. She credits her family with making the transition easier. Her carpenter husband, Jeff, installed handrails around the house. Both he and their daughter, Lilly, have helped Mandy with therapy too. Still, her recovery is far from over.
"I definitely have vocal cord damage from being on the ventilator and all the other tubes. I can't laugh yet. I can't sing. I don't have my strength back yet – one of my biggest struggles now is fatigue. I'm also still sore in my chest, especially when I inhale real deep."
Mandy's struggles aren't just physical. Her battle with COVID-19 has also taken its toll on her mental health.
"I did not deal with anxiety and depression beforehand," she explains. "Situational, sure – but I didn't suffer from those regularly. In the hospital, the doctors would talk a lot about the anxiety I had. While I know anybody would be anxious in that circumstance, it hasn't gone away. It's something I still deal with, along with being forgetful. I will have no memory of complete conversations."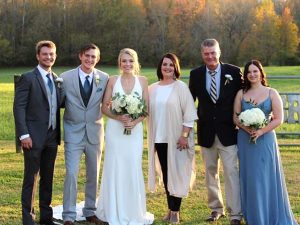 To ensure she stays on the road to recovery, Mandy has joined local support groups to help her deal with the lingering effects of her battle with COVID-19. She's also found her own way to give back and help others facing the same situation.
"I've been cooking meals, praying with people, talking to people, sending them money – whatever they need. I beat the odds that really nobody thought I was going to beat, and it seems to have inspired a lot of people. So, I share my story in hopes of giving someone hope or tips on what I learned and what helped me. I've helped a lot of people so far and I don't plan on stopping."
Dr. Payne counts herself among those people Mandy has inspired, sharing that this story of perseverance has given renewed hope to her and other frontline workers.
"Mandy's story checks every box for what so many of these patients have been through," says Dr. Payne. "For us, I think seeing her get better has helped us in some ways because so very many good people in this town aren't around to tell their story. Their families are still mourning and trying to get through every day without the person that they love. So, knowing that, we are so excited that she has done well, and it helps to ease some of the pain of so many people we have lost."
The other thing Dr. Payne is excited about? The COVID-19 vaccine, which she says has already resulted in a steady decline in COVID-19 cases, especially those that become critically ill. Mandy got her second dose of the Pfizer vaccine in April, alongside her husband and daughter. She says it was an emotional experience but calls it a blessing that has brought her full circle.
Getting vaccinated for COVID-19 is the best way you can avoid severe illness and protect those around you. Learn more about our COVID-19 vaccine efforts.