In his mid-thirties, Joe Musico was facing a number of health problems: high blood pressure, sleep apnea, acid reflux and pre-diabetes. At 465 pounds, he couldn't play with his 3-year-old daughter or even hang Christmas lights on his own house.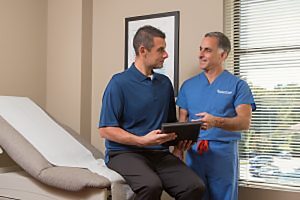 "I had a hard time," Joe says. "I couldn't really tie my shoes. I didn't do anything with my daughter. I just didn't have the energy."
For six years, Joe considered bariatric surgery. He'd done his research and even picked out a surgeon: Dr. Anthony Terracina at Bon Secours Mary Immaculate Hospital in Newport News.
"I wanted to go to someone who knew what they were doing and had been doing it for a while," Joe says. "From hearing from the staff there and the reviews that I found online, I just felt like Dr. Terracina was the best choice in the area, he was."
At 36, Joe finally made—and kept–the appointment with Dr. Terracina, driving all the way up from Elizabeth City, North Carolina. A few months later, on May 5, 2016, he underwent sleeve gastrectomy surgery.
Joe got back to his life quickly, returning home the next day and returning to work just five days later. He stuck exactly to what Leah, the registered dietitian, told him to eat and drink.
"As long as you did what the doctor and his staff tell you, you can't do anything but succeed," Joe says.
Dr. Terracina set a goal of 250 pounds for Joe. A year later, thanks to healthy eating choices and great support from his wife and daughter, Joe had blown past it, weighing just 232 pounds.
"I did not expect the weight loss to be this rapid," Joe says. "I don't think Dr. Terracina's office expected it to go like this either. He said I would lose 60 percent of the weight from the surgery, but the rest would have to come from exercise and making healthier choices on eating."
Joe walks more each day for exercise. He also plays with his daughter and assists with a local marching band, helping teach the woodwind instruments.
"I used to just stand up front and yell and run sound," Joe says. "Now I'm actually running around out there with them."
Joe encourages anyone considering weight loss surgery to take the leap and make an appointment.
"Don't hesitate. Do it," Joe says. "If I had known that I would've had this outcome years ago, I would have done this six years ago. Then I wouldn't have missed out on the first three years of my daughter."
But he does warn others that surgery is not the easy way out; it requires commitment and big changes.
"Make sure you are mentally ready to change your lifestyle," Joe says. "You can't just have the surgery to lose weight and eat the way you were."
Joe helps other weight loss surgery patients find new recipes and learn how to cook low-carbohydrate, high protein meals. He's hosted cooking seminars at Bon Secours Mary Immaculate and has started his own YouTube cooking channel.
At his new weight, Joe no longer has high blood pressure, sleep apnea or acid reflux. He is not at risk for diabetes and has even been able to stop taking medicine for anxiety.
"I'm half the person I was when I first met Dr. Terracina," Joe says. "I refuse to go back down the wrong path."
Learn more about the bariatrics services and weight loss solutions we offer at Bon Secours.