When it comes to improving recoveries and outcomes, robotic technology is leading the way.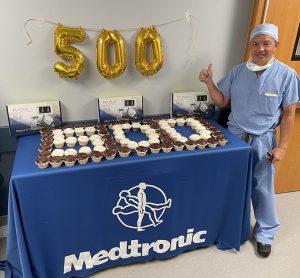 Over the years, our ministry has made it a priority to develop a top-tier pediatric and adult spine program with Bon Secours – Tuckahoe Orthopedics that continues to positively affect the lives of so many of our spine patients. Through utilizing the latest innovations in robotic technology, our orthopedic surgeons offer the most cutting-edge, quality care throughout a patient's surgical journey.
In fact, just recently, the team at Bon Secours St. Mary's Hospital hit a huge milestone. They celebrated their 500th case using the Mazor X Stealth™ Edition Robotic Guidance Platform!
"Having technologies like the Mazor X Stealth™ allow us to perform complex spinal procedures on patients with a greater degree of precision through less invasive approaches," Jed Vanichkachorn, MD, medical director of orthopedics in our Richmond market, shares. "This combination enables us to provide patients with less pain, less blood loss, fewer days in the hospital and better long-term outcomes."
Mazor X Stealth™ enables our surgeons to conduct detailed pre-operative planning and provides intra-operative guidance during the procedure. By combining specialized computer software and robotic-guided instruments, the surgeon can then complete the surgery with precision and efficiency.
Dr. Vanichkachorn and Chad Aarons, MD, are two of only a handful of surgeons in the country who are certified to not only use, but to also teach, this technology to other physicians. The types of surgeries most often performed using this advanced technology include lumbar fusions, MIS lumbar fusions, thoracolumbar fusions for adult deformity, pediatric scoliosis fusions and complex failed back fusion surgery.
Learn more about the orthopedic and sports medicine services we offer at Bon Secours.