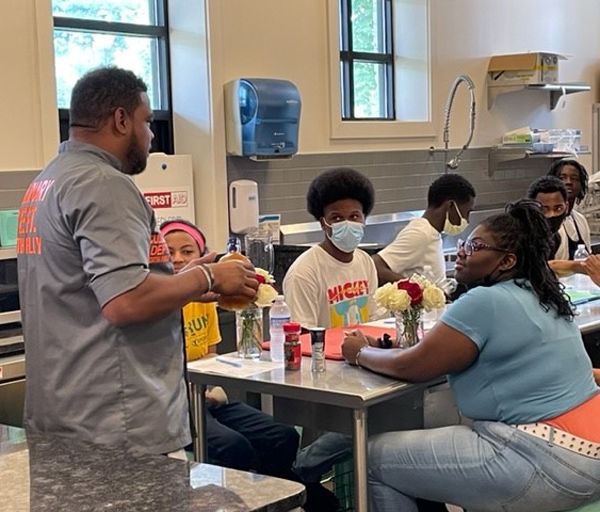 This summer, we are teaming up with the Richmond Police Department for RVA C.O.O.K.S., Culinary Opportunity and Other Keystone Skills, at the Bon Secours Sarah Garland Jones Center for Healthy Living.
RVA C.O.O.K.S. is a free, eight-week culinary program focused on addressing the root causes of youth violence. It is designed to spark culinary interest, creativity and principles that lead to success beyond the kitchen for youth in the Richmond, Va. area. Our ministry is honored to provide funding, kitchen and classroom space for this important initiative.
"We at Bon Secours recognize the factors that drive individual and community health extend far beyond the walls of our hospitals. Thus, we continually strive to improve the well-being of our community through advocacy, community partnerships and a focus on the social determinants of health," Becky Clay Christensen, executive director of community health in our Richmond market, shares. "Supporting RVA C.O.O.K.S. is just one way we can help to make a direct impact in our community. We are proud to partner with the Richmond Police Department to provide a creative and innovative outlet for these young adults to learn key skills that may very well change the trajectory of their life."
What makes this program even more exciting is that Sammy Davis, Jr., restaurateur, Food Network star and winner of "Chopped: Redemption," as well as other guest chefs have joined in on RVA C.O.O.K.S. Their goals are to empower our local youth with lessons on kitchen safety, food preparation, food presentation, proper food handling and cooking techniques.
Discovery and creativity are on the menu as well as learning important life skills, such as drafting a resume, participating in a job interview and navigating difficult conversations. Most importantly, graduates of RVA C.O.O.K.S. will have access to job placement support and resources to enter the culinary field.

Mentoring our youth is personal for chef Sammy Davis, Jr. He was born to a teenage heroin addict and lost his father to a brutal, senseless murder at a young age. At just 16 years old, Sammy left home and ended up living on the streets in Atlanta, Ga. He was forced to survive by committing petty crimes.
Determined to build a life for himself, Sammy sought any kind of employment he could find. Finally, a restaurant gave him a chance to work as a dishwasher, earning just $20 a day.
"The culinary arts saved my life while giving me a chance and an opportunity to create a better life for myself," Sammy shares. "The goal is to do the same for all who come through the RVA C.O.O.K.S. program."
To learn more about how this program is really making a difference right here in our Richmond community, we spoke with Jovontay, a 16-year-old enrolled in the RVA C.O.O.K.S program. While he is currently incarcerated at Richmond Detention Center, he is looking forward to a fresh start when he is released in July. Read his Q&A below.
What are you learning about yourself from being in the kitchen and learning culinary skills?
"I thought I really knew how to cook before coming to the class, but I've learned different cooking skills that I can take back to my home space and to the community."
Over the past couple of weeks through this experience, what have you learned about life and how you interact in the world?
"The class has been teaching me how to work on my anger and communication, but it is still a work in progress. I know I have to work on it if I want to get a job."
What do you know now that you didn't know before you started RVA C.O.O.K.S.?
"I feel like I gained so much confidence. I'm not shy about anything."
What inspires you to keep cooking?
"The program has expanded my eating options. There were so many things I thought I didn't like until I tried them."
We wish Jovontay and the rest of the students in the RVA C.O.O.K.S. program the best of luck as they complete their program! We hope they are able to take these new skills and apply them at home as well as in new careers.
Learn more about our ministry's community commitment.