For more than 25 years, Bon Secours has proudly been an anchor in Richmond's East End neighborhood. Our ministry has been honored to make substantial investments to improve the health and well-being of East End residents by addressing social determinants of health. These include health promotion, job creation, food access, transportation, education and affordable housing.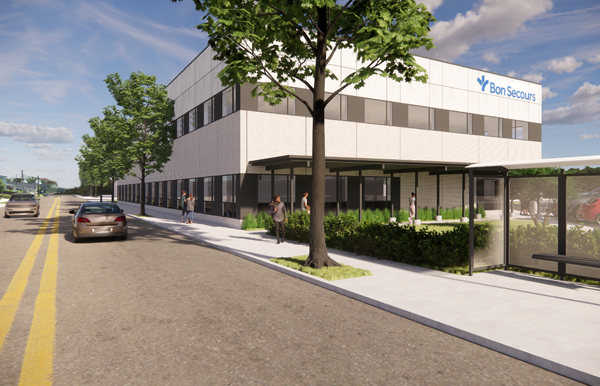 At the end of February 2022, Bon Secours leaders gathered with city officials and local community members of Richmond's East End to break ground on an exciting new expansion of Bon Secours Richmond Community Hospital – a medical office building that will improve access to critical community health needs. The medical office building will be located at 2600 Nine Mile, Richmond, Va. 23223. Construction on this new two-story, 25,000-square-foot facility is expected to be complete by the end of this year.
Every three years, Bon Secours conducts a Community Health Needs Assessment (CHNA), in which residents from the communities we serve share insights through a brief survey. Their feedback helps us identify the areas of greatest need and improvement for the overall health of our community.
These surveys have been helpful in identifying health, social and economic issues that need our attention. Time and time again, there is one significant health need that comes up: behavioral health.
For years, Richmond Community Hospital has offered an inpatient behavioral health unit. However, we are now proud to extend our behavioral health services in this new medical office building, located on the Richmond Community Hospital campus.
"It's an exciting day for Richmond Community Hospital. We are thrilled to break ground on this new facility and we are proud to be responding directly to community needs by providing more access to critical behavioral health services," Joey Trapani, chief operating officer for Richmond Community Hospital, shares.
Programming for the new medical office building will include:
Behavioral Health Services
A behavioral health partial hospitalization program (PHP), which will provide innovative and intensive care for adolescents and adults living with behavioral health and substance abuse disorders. This will serve as an important step between traditional outpatient care and hospitalization.
The Bon Secours Mobile Assessment Response Team (BSMART), which focuses on behavioral health intake and response.
A behavioral health tele-consult call center.
Pastoral Care
A clinical pastoral education program, which will provide local clergy and seminarians with internship and residency opportunities.
A spiritual care volunteer program, which will provide educational and spiritual formational opportunities for members of the community.
A mental health chaplaincy, which will further strengthen the hospital's services to meet the mental health needs of the community members.
Instructive Visiting Nurse Association
Instructive Visiting Nurse Association (IVNA), part of our community health team, has been on the forefront of local community-delivered health services that address racial and economic health disparities in central Virginia and beyond for more than 100 years. It provides a variety of clinics and wellness screenings as well as health education and homebound immunizations. The IVNA plans to build on their prevention services, creating a modern and welcoming home base for preventative health care for neighbors in the East End and beyond.
Additional programming includes Bon Secours hospice and home health as well as health information management.
Previous Investments in the East End Community
Bon Secours recognizes that the factors that drive individual and community health extend far beyond the walls of its hospitals. Bon Secours is especially proud of the investments it has made in the community to support Richmond's East End over the years, including:
Partnering with GRTC to make bus stop shelter improvements
Opening the Sarah Garland Jones Center for Healthy Living, which is a gathering place for the community to collaborate in addressing health disparities and social barriers through population-based health programs
Investing more than $750,000 in grants to local businesses through our Supporting East End Entrepreneurship Development (SEED) program
Investing $1.6 million in partnership with the Salvation Army Boys and Girls Club to develop a gymnasium that is available to the public.
Learn more about our mission as well as our community commitment at Bon Secours.