As a nonprofit health care organization, Bon Secours completes a Community Health Needs Assessment every few years to help us identify key gaps in the areas we serve. We focus on the social determinants of health, or the conditions in communities that affect a wide range of health and quality of life risks as well as outcomes. The hope is that our ministry can support projects to help make our communities better.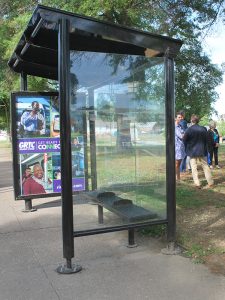 A few years ago, through this assessment, we found that transportation was identified by community members as a top health need. Without quality transportation, those living in poverty are often shut out of good living wage jobs, simply because they can't get to them. Furthermore, transportation can also impact both an individual's and a community's access to health care.
To address transportation as a barrier to quality health care and to improve our region's transportation infrastructure, we committed to investing $200,000 to partner with GRTC in 2018. This partnership was formed to provide bus stop improvements and a more convenient, safe experience for riders in Richmond's East End.
In partnership with RVA Rapid Transit, the leading regional advocacy group for public transportation, Bon Secours and GRTC collaboratively focused on bus stop and pedestrian enhancements as a key need with achievable, measurable and visible impacts within Richmond's East End.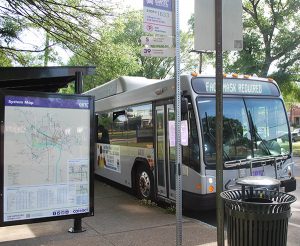 "We are thrilled to celebrate the near completion of these bus stop infrastructure improvements that were identified as a key need for Richmond's East End community," shares Chris Accashian, chief operating officer, Bon Secours Richmond. "We know transportation is one of the social determinants of health that impacts both individual and community health, and it is exciting to see the years of planning, progress and partnership with GRTC on this project come to fruition."
Based on input from RVA Rapid Transit and public engagement, as well as information from the Community Health Needs Assessment, it was determined that the necessary enhancements should include installation of new amenities including benches, trash cans and one- to three-sided shelters.
"Like all of our riders, I have stood in the pouring rain, in the biting snow, and under the brutal summer sun at a local bus stop," says Julie Timm, chief executive officer GRTC Transit System. "This common exposure to the elements is a very real barrier to riders' access to equitable mobility – including access to work, to health care, to food, to education – with detrimental impacts to the entire community. The tremendous leadership from Bon Secours has accelerated our system-wide amenity improvement efforts, targeting Richmond's historically under-invested East End communities with higher-quality facilities. We are thankful for their support and are excited to install more rider improvements throughout the transit network this year."
We hope the residents of Richmond's East End community find comfort in these improvements, and that these new bus shelters help to reduce transportation as a barrier to access health care.
Learn more about our community commitment at Bon Secours and find out about our community programs located in Richmond.