You've probably heard the colors of a room can impact a person's mood and overall well-being.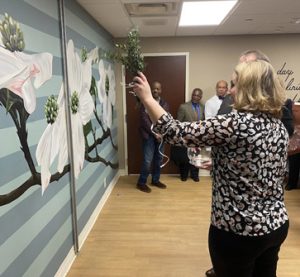 Taking this into consideration, Bon Secours recently decided to update the behavioral health unit space at Bon Secours – Richmond Community Hospital. The hope is these changes will ensure patients, families, and staff have a healing and inviting area to visit.
Feeling the space needed a refresh, Leigh Sewell, Richmond Community Hospital President, worked with local Richmond artist, Jason Ford. Together they brainstormed, designed and brought beautiful custom murals for the unit to life.
"I told him about my vision and he was on board from the start," Leigh says about Jason. "He met with the unit staff to get their ideas and input, and he did a lot of research on the healing properties different colors can have."
Jason was very dedicated to this project, often working many nights. The project was recently completed in December.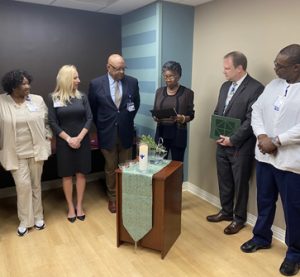 Now, a calming shade of blue with white clouds fills the unit's long hallway. In the kitchen and gathering area, bright colors and inspirational quotes give off a vibrant and positive setting. There's even a nod to Virginia with dogwood blooms.
A handful of the inspirational quotes on the wall include phrases such as: "my life is filled with meaning, purpose and passion," "just breathe," "love yourself," "each new day is filled with infinite potential and possibility," and "hope heals."
Following the completion of the unit's colorful refresh, Bon Secours celebrated by holding a blessing ceremony together with Richmond Community Hospital staff and leadership. Representatives from Mission and Richmond market leadership also attended.
Learn more about the behavioral and mental health services at Bon Secours.