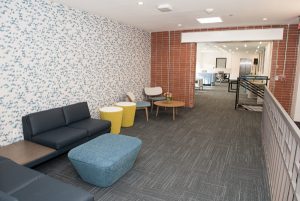 This new clinic is an extension of the Bon Secours Care-A-Van, our mobile health clinic, which has been serving the uninsured community for nearly 30 years. This van began serving the community in 1994 with one vehicle and a sole focus on children's immunizations. Today, it operates five days a week with our care team members providing primary and preventive care, as well as chronic disease management to uninsured adults and children throughout the region in partnership with churches and other local nonprofits.
The Care-A-Van, which provided care to more than 14,000 patient in 2022, will continue to deploy to our church partner sites and provide free medical care to our most vulnerable populations. But as we transition much of our chronic disease management and follow-up care to this new health clinic, the Care-A-Van will focus on continuing to provide same-day acute care.
On April 3, we saw our first patients at the newly renovated two-story, 8,000-square-foot Community Health Clinic in Manchester, which features eight exam rooms, an on-site lab and a behavioral health wellness room.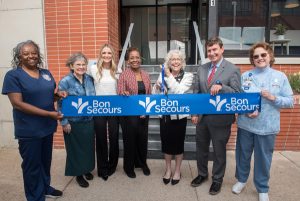 "For nearly three decades, the Care-A-Van has served as a medical home for uninsured patients through partnerships with local churches and nonprofit organizations, and we continuously strive to earn and maintain the trust of our patients by providing consistent, quality, compassionate health care," said Paula Young, MD, medical director of community health access and Richmond Community Hospital, shares. "This new location allows us to provide the same compassionate care our patients know and trust, and it allows us to better manage our patients' chronic diseases in a state-of-the-art clinical setting that is outfitted with the latest medical technology. We look forward to welcoming our established and new patients here at their new medical home."
At Bon Secours, we recognize the factors that drive individual and community health extend far beyond the walls of our hospitals. That's why our community health team is focused on addressing the social determinants of health in the communities in which we live and work. These determinants include health promotion, job creation, food access, transportation, education and affordable housing.
On the second floor of this new health clinic, we house some of our community health team members. These offices and collaborative space provide places where we can better engage with our community partners. And in keeping with our ministry's Mission, the community health team will continue to promote well-being and connect individuals and families to sustainable resources to support their unique socioeconomic needs. Overall, this team helps bridge the gap for families in need when it comes to issues of food insecurity, financial assistance, health insurance enrollment and more.
Operating as an extension of the Bon Secours Care-A-Van, the Bon Secours Community Health Clinic will follow the model of care that existing patients are already familiar with.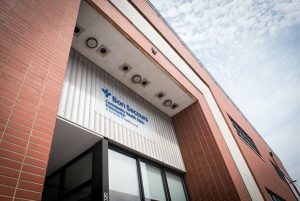 Both clinics will continue operating as appointment-only clinics, either scheduled or same-day. Additionally, virtual visit options will continue to be offered as well as vaccines and immunizations for both adults and children.
In recent years, Bon Secours has expanded its community health work into the Manchester area, most notably through local investments in financial literacy programs. We are proud that Community Health Clinic, Manchester, is our first clinical presence in this community.
"The opening of the Community Health Clinic is a major milestone for Bon Secours' compassionate ministry and for our underserved community in Richmond," Becky Clay Christensen, executive director of community health for our Richmond market. "We could not be more excited to bring these critical health care services to some of our most vulnerable populations and to have a new space to further our important community health work."
The $3 million Bon Secours Community Health Clinic, Manchester, at the Center for Healthy Living was made possible by philanthropic support through the Bon Secours Richmond Health Care Foundation, which will continue to engage donors to fundraise for this important program. The majority of funding was covered by a $2 million estate gift from a generous donor who was passionate about caring for the underserved.
The Bon Secours Community Health Clinic is located at 2301 Everett Street, within two miles of our three highest-volume Care-A-Van mobile clinic sites. A monthly Care-A-Van schedule is available on our website.
Learn more about all the health care services we offer at Bon Secours.