*Please note, these photos were taken prior to the COVID-19 pandemic.
When the COVID-19 pandemic hit, Paula Young, MD, knew she needed to be very cautious. She lives with the challenge of multiple sclerosis (MS) which puts her in the high-risk category for this disease.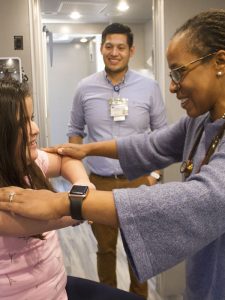 However, as a pediatrician and the medical director for community health access with the Bon Secours Care-A-Van, Dr. Young also knew she needed to continue to care for the Richmond, VA community.
The Bon Secours Care-A-Van is a free, mobile health clinic that provides general medical care to uninsured children and patients.
"Being able to share in the life journey of my patients who are at such a young age inspires me to do my best every day," Dr. Young says of her love for working with the Care-A-Van.
Virtual visits were a great option for many during the initial months of the pandemic. However, Bon Secours Care-A-Van patients rely on walk-in appointments and needed a different solution. Plus, a complete children's physical is something that needs to be done in person.
Determined as ever to meet her patients' needs, Dr. Young began researching and reaching out. Finally, she connected with Eko, a cardiopulmonary digital health company that is elevating the way clinicians detect as well as monitor cardiac and respiratory disease.
"The pandemic has required the medical community to be innovative. Finding a solution for providing care while staying safe for patients and providers is of the utmost importance," says Dr. Young.
Eko decided to partner with the Care-A-Van through Eko Cares, their social impact initiative where they donate products, services and support to health care providers globally. The main requirement is that the mission of the health care service must be to care for underserved communities.
Through this partnership, Eko Cares donated a digital stethoscope to the Bon Secours Care-A-Van free of charge. Utilizing this technology, a nurse can safely meet with patients on the Care-A-Van in person. From there, the nurse can transmit the patient's heart beat virtually to Dr. Young who can evaluate it from the safety of her home.
This partnership has changed the way we are able to deliver care to our most vulnerable, while protecting our most vulnerable.
"We are very grateful to Eko Cares for helping us meet our community need so we could continue our important work during this unprecedented time," says Dr. Young. "The past year presented us with unique challenges, but by embracing technology, teamwork, and a commitment to compassionate care, we have made improvements that will enhance our ability to care for our community now and for many years to come."
Has a Bon Secours provider made a difference in your life? Help us celebrate Doctors' Day today by sending your provider a message of thanks.