Bon Secours Maryview Medical Center recently introduced two new cardiovascular procedures that further bolster our ministry's options for heart care.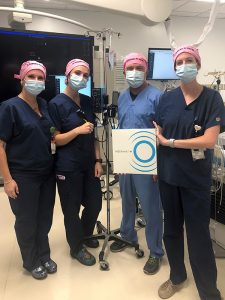 This fall, Chad McKenzie, DO, performed the facilities first shockwave procedure. This intravascular lithotripsy is performed to treat patients with peripheral artery disease.
"We are thrilled to be among the first to offer this innovative technology to the patients of Portsmouth, VA," Dr. McKenzie shares. "Hardened calcium within peripheral artery plaque is becoming more common as people are living longer. It can be very challenging to treat. The sonic pressure waves produced when performing intravascular lithotripsy give us a new, safe and proven treatment option to break up the calcified plaque, with potentially less risk of injury to the vessel compared to other treatments."
Also this fall, Hetal Mehta, MD, performed this facility's first patent foramen valve (PFO) closure. In this procedure, a device is implanted in the heart to fill a hole that should have closed soon after birth. If it doesn't close, this hole can cause strokes in adults. We are so honored that Dr. Mehta recently joined Maryview as the medical director of its structural heart program.
The addition of both of these heart procedures is part of Maryview Medical Center's mission to build upon its already comprehensive cardiovascular program. These efforts are leading to the upcoming brand-new hybrid operating room where structural heart procedures will be performed.
Learn more about all the heart and vascular care services we offer at Bon Secours.