As Women's History Month comes to an end, we want to celebrate women while also acknowledging their continuous contributions, the sacrifices they make as well as obstacles they face. We are honored to have strong women like Angel Daniels, RN, BSN, MSN, DNP, as a part of our ministry.
Hear Angel's firsthand story about her incredible life journey thus far and why she has decided to never give up.
"As I reflect on my journey into the world of health care, for me it started as a little girl playing with dolls. I gave them pretend medicine, wrapped them in torn sheets as bandages for their wounds and hoped I could do something to make them feel better. It was this calling that led me into the world of nursing. However, it was not an easy journey for me.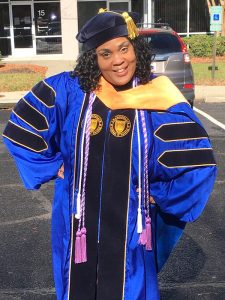 I grew up the youngest of three girls in the east end area of Richmond, VA. I attended Richmond Public Schools up through my first year in high school. Soon after that, my life changed. I was a teen mom and high school dropout. I felt lost but never lost hope. At 16 years old, I start attending cosmetology school to get a career and take care my daughter. By the time I was 19, I had already moved out of my parent's home and was a mother two.
Struggling at times and living off government assistance, I sometimes had to decide whether I was going have heat, electricity and or enough food to last for a month. One day I heard a conversation pertaining to me and the person said, "Angel will never amount to anything." That fueled my determination.
I looked at my life and wanted more not just for me, but for my children. I worked hard to finish high school and earned my GED. I worked multiple jobs starting as a certified nursing assisting and medical assistant. After teaching myself how to type and learning computer software, I landed temporary jobs for two years hoping to gain full-time employment. I would sit in my car and cry because I wanted to give up. I told my mother, "God doesn't love me." She cried and said, "don't ever feel that God doesn't love you just because things are not easy. He has a plan for you." And she was right, he did.
In 2003, as a single mom of now three kids, I started my journey to apply to nursing school. I had to take prerequisite courses starting with basic math and pre-algebra. I felt defeated, and my daughter tutored me to help me pass these courses. I didn't want to go to any nursing school, so I applied to Bon Secours School of Nursing. On my third attempt, I was accepted.
It was during that time I learned the true meaning of determination, inspiration and sacrifice. I worked full-time as a quality improvement specialist while attending nursing school at night and weekends. Eventually, I had to cut my hours back from full-time to part-time and the financial struggle was devastating. But I did not give up. Studying late at night after the kids go to bed and running off three hours of sleep for two and a half years.
During my time at nursing school, I was in a horrible car accident. I had to undergo three surgeries including cardiac surgery, but I refused to give up or stop attending school. My passion, dedication, and drive would not allow me to give up.
In 2008, I graduated nursing school and started working at Bon Secours Richmond Community Hospital in the emergency department. Our patients were from a diverse and vulnerable population and had a multitude of health needs. After working in the emergency department for several years, I accepted a job as a nurse navigator. I also became a certificated case manager. As I progressed in my role as a nurse navigator, I was promoted to clinical transformation manager.
It was during this time I wanted to keep growing and developing professionally. In pursuit of continuing my education, I earned a Bachelor of Science in Nursing (BSN) and Master of Science (MSN) degree from Liberty University with a concentration is in nursing education. I completed my doctoral studies in December 2016, earning a Doctor of Nursing Practice (DNP) degree from Chamberlain College of nursing with a concentration in health system leadership.
Today, I am an associate professor of nursing and curriculum coordinator of general education at Bon Secours Memorial College of Nursing. I am also currently attending Johns Hopkins Bloomberg School of Public Health working on a post-doctorate certificate in population health management.
At the end of the day, my children inspire me keep going and never give up. My daughter is currently following my footsteps. She is not attending nursing school but is a single mother of two in her second year of school at Texas A&M University School of Law and is exceling in her studies.
My journey in life was not an easy road to travel, but I do not have any regrets. Just a lot of lessons learned, especially learning to never give up."
Learn about the health care services we offer at Bon Secours.