One of the greatest joys for a father is being able to walk his daughter down the aisle on her wedding day.
However, this moment was going to be a challenge for Jose Gonzalez DelAngel as he was in the hospital with stage IV cancer. It's a diagnosis leaving him very little time with the ones he loves.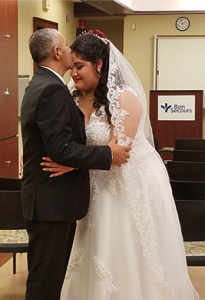 Upon hearing of Jose's predicament, Bon Secours staff jumped into help. In just three hours, they arranged for a small ceremony to be held in the auditorium at St. Francis Downtown Hospital, so Jose could take part in his daughter's special day.
"The spirit of the Bon Secours mission was evident in many staff members throughout the collaboration in creating this memory," says nurse practitioner Jennifer Ashley.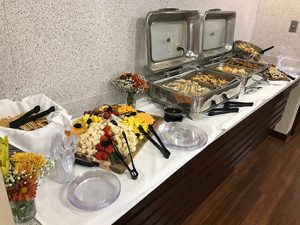 With everyone's help Jose was able to dress in his suit, leave the floor for the private ceremony with his family, and even walk his daughter down the aisle. Morrison Healthcare, the company that provides food services for Bon Secours, donated drinks and food for a post-wedding reception. They even threw in some extra flowers to add a special, decorative touch.
"These events are always special – what a way for us all to pause and be thankful for one another, our families and those we serve," says Rick D'Eredita, Morrison Healthcare's Regional Director.
Following the special ceremony, Jose told his doctor that he was so appreciative of everyone. Not only for the care he received but for the help creating this special moment for his family. He truly treasured being able to fulfill a very important milestone in his and his daughter's life.
Jose Gonzalez DelAngel recently passed away in hospice with his wife, family, and pastor in attendance. Please keep the Gonzalez family in your thoughts and prayers during this sensitive time.