About every 40 seconds, somebody in America has a stroke. Health officials observe Stroke Awareness Month every May as a way to bring attention to the signs and symptoms of strokes. It is information that can save a life when recognized early.
A stroke happens when the supply of blood to the brain is reduced or blocked completely. Unfortunately, a disproportionate number of those who suffer from strokes are African Americans – a fact that doesn't sit well with John McBurney, MD, Medical Director of the Bon Secours St. Francis Stroke Program.
"As a practicing neurologist, it just kills me seeing African Americans being mowed down by stroke and at shockingly early ages," he says.
Dr. McBurney (pictured above, right) began analyzing stroke data at Bon Secours three years ago to get a better sense of the disparity on a local level.
"What we found was really shocking – the average age of stroke among African Americans in Greenville County was about 10 years younger than that of Whites."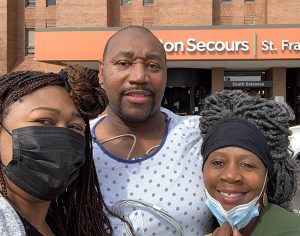 Another unsettling find? The difference wasn't easily explainable based on traditional risk factors, such as obesity or blood sugar control. In many cases, patients like Julius Hudson (pictured above, left) were healthier than patients of other races.
"I eat healthy, and I've been a bodybuilder since I was 19. I'm 54 now, and I look at myself as Superman – indestructible," says Julius. "Heart disease runs in my family. That was the whole purpose of me changing the way I ate and getting into body building – to keep this type of thing from happening."
Julius was at work on February 23, 2021 when he noticed a loss of strength in his arm. He also began to lose his balance and struggled to get his words out clearly. Recognizing the signs of stroke, he had a co-worker take him to the hospital.
Julius had suffered a transient ischemic attack (TIA), a stroke that lasts only a few minutes when the blood supply to part of the brain is briefly blocked. Unfortunately, it wouldn't be his last. Julius had two more strokes in the following week, leaving him struggling to speak and with partial paralysis on the left side of his body.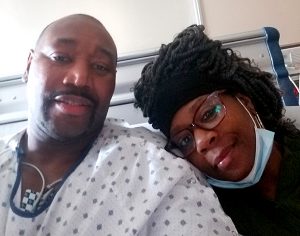 "That was devastating," he remembers. "With me thinking all my life I'm indestructible, that was a hard pill to swallow – almost as if someone was trying to destroy me, but it was my own body. So, that was very difficult. Emotions at that time were all over the place."
Julius was told the source of the problem was a carotid artery in the back of his head that had restricted oxygen and blood flow to the brain. He's now on medication to help manage it. Following some physical therapy, he's returned to the gym where he now works out six days a week.
"Unfortunately, where I used to be able to lift 100 pounds, I can only do about 15 on the left side now. It's nowhere close to what I used to do, but I remain optimistic. I refuse to give up," Julius shares.
Dr. McBurney feels the same about solving the racial disparity among stroke patients.
"In the health care industry, we tend to focus on what we do medically, but it's estimated that what we do only accounts for about 20% of the difference," he shares. "The other 80% are the social determinants of health – things like where you live, how much money you make, etc."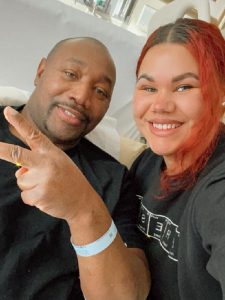 That's one reason Bon Secours goes beyond its facilities to try and create communities of health, hope and well-being. Our Catholic tradition teaches us that each person is not only sacred but also social meaning how we organize our society in terms of economics and politics directly affects a person's ability to grow and develop. Knowing that, Bon Secours works with community partners to bolster access to affordable housing, education, employment and other opportunities.
However, Dr. McBurney says there's one more challenge facing this specific population that will require everyone's involvement.
"It's been shown that the toll of striving in a hostile environment increases negative health outcomes, not just for you but also future generations. So, in many ways I think this disparity may be linked to the trauma of slavery, along with persistent and systemic racism for this group. We, as a society, have got to come up with a way to address it if we ever want to make progress in that area."
Learn more about the stroke care services we offer as well as our mission at Bon Secours.