Leigh Stinnett was diagnosed with breast cancer two years ago. She credits her sister's breasts with saving her life.
"I had just turned 38 and obviously never had a mammogram. There is no history of breast cancer in my family. My older sister had her first screening mammogram, and there was an area of concern that had to be biopsied. This prompted me to do self-breast exam."
The exam led to the discovery of a blueberry-sized lump in one of Leigh's breasts. From there, she scheduled a doctor appointment which eventually led to her diagnosis. Following several rounds of chemotherapy, radiation and other treatments, Leigh is now considered cancer free.
"After my diagnosis, I was really inspired to help other people in any way that I could."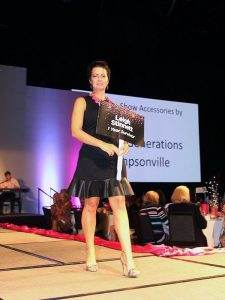 As a nurse practitioner with Bon Secours, Leigh was already familiar with our annual breast cancer fundraiser in Greenville, SC – Pearls & Pumps. Last year, she reached out in hopes of volunteering. However, she ended up becoming one of the event's featured survivors who model during the event's runway show.
"My experience was amazing! It is very intimidating walking the runway in front of so many people, especially in heels. I remember being terrified, but once I stepped out on the runway, the fear vanished, and it was a lot of fun."
Fun was exactly what Leigh needed to help relieve some of the stress of battling cancer.
"Your body, mind, and spirit go through so much during the treatment process. Having an evening where you are pampered and celebrated really does wonders. There is such a feeling of family with the other models. They have their own unique journey, and I learned such great lessons from each one of them. Knowing that there is this tribe of women who have gone through similar things, helps you feel not so alone."
Unfortunately, the COVID-19 pandemic has been cancelling events with large gatherings this year. Leigh began to fear the worst for Pearls & Pumps. However, the event's amazing organizers had enough time to come up with an alternative plan – an all virtual event.
"The thought of not having this major fundraiser was hard, but then they announced the virtual event and I was thrilled."
While the location may be different than years past, the signature fashion show will still be an important part of the popular event. Leigh will again model this year, meaning she still gets to pick out a fun, new outfit and enjoy the pampering that goes along with having your hair and makeup done for the big show. The only difference is the show will be recorded in advance, so Leigh and the other models can relax and enjoy a front seat to the show from their own living rooms, surrounded by their families.
"It's the best of both worlds! We get to spend time together, and we get to see the entire event."
Pearls & Pumps is taking place on Tuesday, October 13 and is presented by Belk, TALK and WSPA 7 News. This all virtual event will feature Bon Secours Oncologist Dr. Stephen Dyar as the keynote speaker. The looks worn by Leigh and the other models will be available for purchase along with other items in an online marketplace that's open to ticket holders in the week leading up to the event. All proceeds from this event will go directly to ensuring women from all walks of life have mammogram access.
"I would just encourage people to give whatever they are comfortable with. Every little bit helps, and it goes directly to saving people's lives," Leigh shares.
Even those who don't purchase a ticket can donate to the cause by texting "Pearl20" to 76278.