Anne (pictured above) is a nurse on our behavioral health unit at Bon Secours St. Mary's Hospital. One day in April, she was on her way home from work where she witnessed a pick-up truck sideswipe and clip a school bus. This sent the bus into the guard rail, through it and down an embankment.
The bus then flipped on its side into Pocoshock Creek in Chesterfield County, Va. Anne describes witnessing the event as if it was happening in slow motion.
"It was one 'oh no' event after another, until you get to the OMG!" she recalls.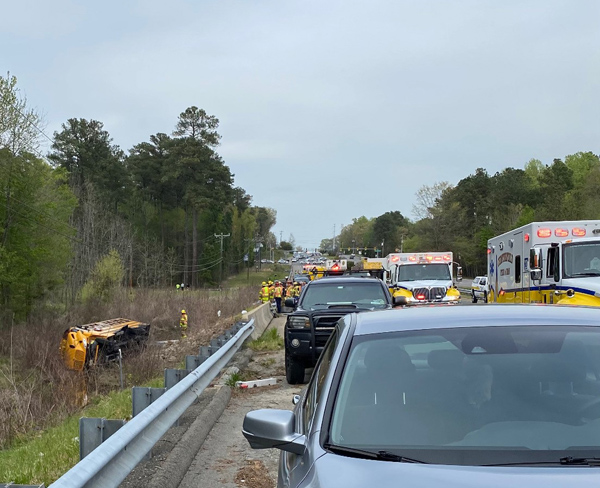 Anne, along with others, immediately pulled over and ran down the embankment into the creek to the bus. After others helped getting the emergency door opened, Anne climbed up into the bus, which was on its side in about 16 inches of water.
She, along with several others who had climbed into driver's window, helped get the five students unbuckled and safely maneuver them out of the back of the bus. There were also two adults on the bus, the driver and an instructional assistant.
All the students, who were high school age, had autism and were non-verbal. Due to Anne's background working with students with special needs, she knew the beeping of the alarm of the emergency exit added to the stress of the situation. Anne asked a man waiting on the door to hold the alarm quiet until someone up front could disengage it. She also relayed to passers-by up on the road a message from the instructional assistant to be aware of the flight risk of the students due to their anxiety and fear.
"I cannot imagine how terrifying this was for the adults and students on the bus who had special needs and had difficulty communicating … much less observing it happen in slow motion through the eyes of a medical professional and bystander watching it spin out of control," Joanne Cooke, administrative director of emergency services at St. Mary's Hospital and Anne's supervisor, says. "I want to applaud Anne for her heroism. Anne is one of the kindest and most genuine individuals I have ever met. She is humble, caring and has a gentle spirit. She serves vulnerable individuals daily – without judgement – and with such love and compassion that can only come directly from her beautiful heart. Anne is a true angel, and we are so blessed to have her on our team and part of our St. Mary's family."
Thank you to Anne for her heroic actions! She truly embodies our mission in her daily life.
Learn about the health care services we offer at Bon Secours.