A statue of the "Ascending Christ" now welcomes visitors to the Bon Secours St. Francis Eastside campus in Greenville, SC. It's the third of its kind as all of Bon Secours St. Francis Health System's hospital campuses now feature this statue – Eastside, Downtown and Millennium.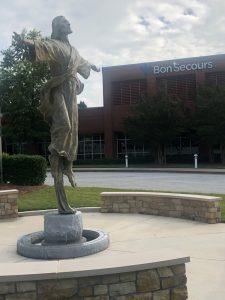 The $200,000 addition on St. Francis Eastside's campus was funded entirely through philanthropy and community donations. Charlie Pate, Sr. and Charles Pate, Jr. are the artists behind this masterpiece, which is made of steel and clay. At the base of the statue is the bible verse, Matthew 28:20: "Behold, I am with you always, until the end of the age."
Construction for the statue site, near Entrance B of the hospital, began in mid-March, and its installation was complete in mid-May. It's now visible to anyone driving along Patewood Drive.
Due to the COVID-19 pandemic, a blessing ceremony for this statue is on hold indefinitely. However, Senior Vice President of Mission at Bon Secours, Dr. Alex Garvey, says the statue's arrival couldn't have come at a better time.
"For the perfect Christ enters into our broken world to perfect us," he says, adding this special prayer.
Today our Eastside Christ finds that:
We mask ourselves to protect against airborne droplets,
yet we welcome the fresh breath of a new born child.
We no longer fist bump or high five,
Yet our same hands still bring hope and healing.
We socially distance and stay six feet from each other,
Yet our hearts have never been closer and our resolve never stronger.
We are divided by false hopes and misleading headlines,
Yet we rejoice and sing when a recovered patient goes home.
Let's face it! The Ascending Christ has come to Eastside exactly when He needs too! He comes to remind us that…this too shall pass and that…we are His people…the Flock He shepherds!
Learn more about the health care services offered at Bon Secours.