Jon Saunders recently traveled from Charlottesville, VA in search of the right doctor to treat his inguinal hernia.
Jon, who had his first hernia in 1969, was now suffering from his sixth one. While doing some research online, he came across Amit Gogia, MD, FACS.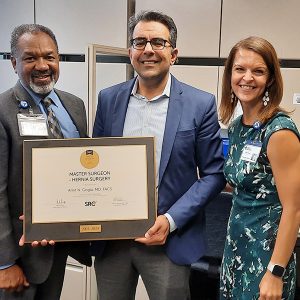 Dr. Gogia is the medical director of the hernia program at the Bon Secours Memorial Regional Medical Center. He specializes in robotic assisted minimally invasive repairs of complex hernias. In fact, this facility recently renewed its status as a Center of Excellence in Hernia Surgery (COEHS). The review process for this designation is complex and required a lot of help from our medical team members.
When Jon met with Dr. Gogia on May 17 of this year, he knew he had found the right surgeon.
"I was looking for a doctor who was interested in minimally invasive surgeries and one who felt that he could do my complex repair with minimal risk," Jon says. "After speaking with Dr. Gogia, I was confident he was going to do a good job."
Jon's experience with Dr. Gogia was outstanding. After his procedure, he stayed overnight for observation and the hospital staff was nothing less than supportive as well as helpful.
"The surgery was done well, and I was well taken care of at Bon Secours," Jon adds.
Since his surgery in the beginning of June, Jon has been taking it easy, but is slowly getting back to normal life. He has been walking for exercise, driving and going to the grocery store for some light shopping. One morning, he was even able to walk three miles for his morning exercise.
"The ability to perform minimally invasive hernia procedures is another way to assure the patient has overall success," Dr. Gogia shares. "Certain hernias will require a traditional repair, depending on the size and where it occurs in the body. However, a robotic repair may help the patient experience less pain, with a few small cuts rather than one big one."
Dr. Gogia adds, "in my practice, the majority of hernia patients benefit from the minimally invasive approach. Patients heal better, hurt less and look better. They can also get back to their normal activities, like golf or running, more quickly."
"I tend to push myself, so I am trying to not overdo it this time around. I'm feeling very good, better than my hernia procedures in the past. Most people like to show off their scars after surgery, but I barely have anything to show with how little mine are."
Once fully recovered, Jon is most looking forward to jogging and swimming again.
Learn more about the general surgery services we offer at Bon Secours.