The role of rehab staff members is to provide support, care, and compassion to the patients they serve each day. However, the support a patient receives from routine visits with family members is important too. These visits do wonders to lift their spirits, and there are also many physical benefits that can occur, such as lower blood pressure and heart rates.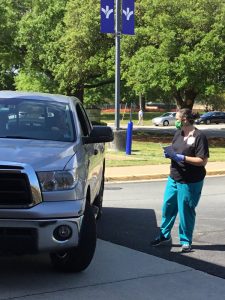 With the current COVID-19 pandemic, hospitals throughout the country have been forced to implement new visitor restrictions to protect the health and safety of workers, patients and communities. However, knowing the importance of a family's support for their loved one's recovery, the acute physical rehab unit at Bon Secours – Maryview Medical Center developed a way to bridge this new gap.
The rehab team recently created drive-through family visits for their patients to give them a little boost. The visits are great because they allow all parties to maintain social distancing, abide by all state and federal guidelines and prevent the spread of COVID-19.
The first patient to receive a drive-through visit from her loved ones was Sandra Alford. Sandra began her stay at Maryview Medical Center in mid-March of this year. Her daughter recounted how heartbreaking it was to see her mother leave in an ambulance and knowing their family would not be able to be by her side in the hospital.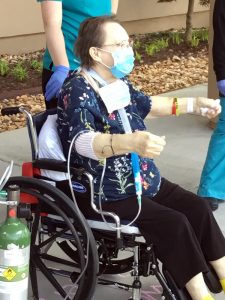 At one point during her mother's hospital stay, the family was notified that her condition had worsened. Sandra was not doing well, and they were concerned she might not make it out of the hospital.  However, in mid-April, Sandra started to turn the corner. She was moved to the acute physical rehab unit at Maryview Medical Center for additional care.
Because Sandra had been away from her family for nearly a month, the team was eager to connect her with them via a drive-through visit. Sandra was thrilled that she would be able to see their faces and hear their voices.
At the time of her visit, Sandra was still undergoing speech therapy and was unable to speak. The rehab staff gave her a white board prepared with a special message of love for her family. The visit was an amazing success! There were plenty of air hugs and tears of joy from a distance of at least six feet for all who were involved, including some of our staff.
In the days after the drive-through visit, Sandra shared how she felt with the team.
"Joy! Seeing all of them brought me joy. My heart swelled up. It was so kind of the rehab staff to organize this visit. It was wonderful to see my family."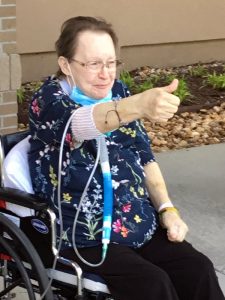 One of Sandra's biggest drivers was getting back home to celebrate her 50th wedding anniversary with her husband. She ended up being discharged a week after her drive-through visit. Seeing her family not only helped Sandra get through that last week of her rehab stay, but it gave the staff an extra boost they needed to continue the great work they do each day.
Looking back, Sandra even shared her disbelief at her own progress, "When y'all tell me what I've been through, it's hard to believe."
Sandra would also like to give a shout out to 3ICU, 2 South Step Down, ED and 4 South at Maryview Medical Center for all taking great care of her too.
Learn how you can send a personal thank you to our team members during National Hospital Week.
Stay updated on what Bon Secours is doing related to COVID-19.