When a COVID-19 patient recovers and is discharged from Bon Secours Maryview Medical Center, the patients' care team and anyone involved in their treatment is invited to line the halls for a "Code Happy" celebration. Last week, our team gathered for a very special "Code Happy."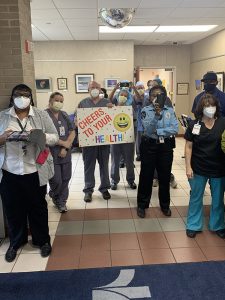 Mrs. Wilson had been battling COVID-19 in a local hospital for a month before being admitted to the Acute Rehab Unit at Marvyiew Medical Center. When she arrived, she was unable to walk more than 10 feet at one time and required assistance with everyday tasks such as bathing and dressing.
Mrs. Wilson immediately began working with the rehab team toward her goal of returning home to her family and friends. While she experienced fatigue very easily, she pushed through to gain back her strength. After two weeks of hard work, Mrs. Wilson regained her independence and was cleared to head home.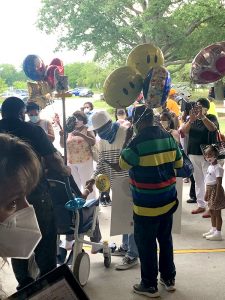 Mrs. Wilson's "Code Happy" was emotional not only for her and her family, but her care team as well. They invested many hours helping her regain her strength, so she could return home with some normalcy in her life.
Here are what some members of Mrs. Wilson's rehab team wanted to share about caring for her as well as participating in her "Code Happy" discharge.
"Our hospital and rehab teams have worked so hard and given so much in the last several months during this pandemic. It was a true blessing and privilege to take part in her journey to recovery. The tears during this send-off were ones of joy! It always reaffirms why we are here and do what we do!" – Angie, rehab manager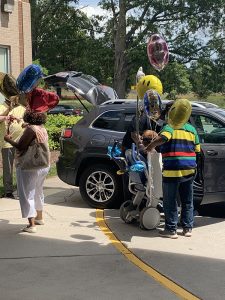 "It was very uplifting and nice to have a sense of community during this time." – Laura, physical therapist
"She's been through a lot, and she made great gains. I'm proud of her." – Maggie, clinical lead nurse
"I felt relief for her, and joy." – Bill, nurse
Congratulations to Mrs. Wilson on making an incredible recovery from COVID-19. We are always thrilled to see our patients return to their lives and we are proud of the hard work they put in throughout the rehab process.
Stay updated on what Bon Secours is doing related to COVID-19.