Mike Lutes, our Richmond market president, joined our ministry in October of 2022. Since then, he has hit the ground running.
In his first seven months, Mike has made a real impact on the ministry and the Richmond community. He is focused on building a strong culture within our workforce by introducing a "Bon Secours Proud" campaign. He is also committed to caring for our communities beyond hospital walls, especially improving health outcomes in Richmond's East End. And finally, Mike is determined to understand the challenges that not only our providers and team members face, but our patients and communities face as well.
In addition to being a new leader in our Richmond market, Mike is also a cancer survivor.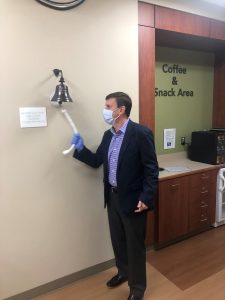 He can relate to patients in a way that many leaders can't. He truly understands what our patients are going through when they are receiving a diagnosis and planning a course of treatment, and he knows how big of an impact that nurses, doctors, imaging technicians and other health care personnel can have on the patient experience during these vulnerable times.
Mike's cancer experience changed him as a leader and, specifically, a leader in health care. Beyond that, Mike says his diagnosis strengthened his faith and is a large part of the reason he joined our ministry, the area's only faith-based health system, as president – he aligned with our Mission.
Nov. 2 is an important day in Mike's life. Not only is it his birthday, and his mother's birthday, but it's the day he was diagnosed with prostate cancer.
While receiving this news during the COVID-19 pandemic was already unexpected, he was diagnosed on his 49th birthday, which is uncharacteristically young for prostate cancer. That day, he became one in 456 men to receive this diagnosis under the age of 50  – most prostate cancer diagnoses are made in men over the age of 65.
"When I received my cancer diagnosis, I was in a really bad place for about 10 minutes. Then, my focus shifted quickly into, 'OK, how am I going to tackle this?,'" Mike recalls. "But first, I knew I had to have two important conversations – one with my wife and one with my daughter. Talking to my daughter about this was the hardest conversation I've ever had in my entire life."
Mike is competitive by nature and over the years has developed an affinity for extreme sports like cliff jumping, free diving, rock climbing and long-distance running. So, with his family's support, he was ready to tackle his cancer head-on. With the support of his medical team, which was located in North Carolina where he served as a leader of the health system at the time, Mike began an aggressive treatment plan. However, he did so very quietly with only his family, closest friends and his executive leadership team in the know.
"When I started receiving treatment, we were facing the worst of the pandemic as a community and as an industry," Mike shares. "It was important to me to show up for my team and my health system, so I would get treatments early in the morning hours, show up for work, go home early to catch up on rest and spend some time with my family before doing it all again. During treatment, I never missed a day of work."
Mike says that at the time he thought he was showing up out of solidarity and support of his team. But now looking back, the real reason he continued to show up to work each day was because what his team, his providers, nurses and staff were doing each and every day, caring for the community during COVID-19, was a source of inspiration. Their hard work and dedication during those trying times helped him to keep fighting.
Today, Mike is doing well now and hopes he can help spread awareness about the importance of keeping up with routine physicals and talking to your health care provider if something isn't feeling right.
"A cancer diagnosis changes you. You truly learn that every moment is precious," Mike adds.
Learn more about prostate cancer as well as the cancer care services we provide at Bon Secours.