When Portsmouth, VA resident Turrell Smith arrived at Bon Secours Maryview Medical Center in late fall of 2020, his right lung was already deflated and its cells were dying. Turrell's sister, Daeja, remembers the first days of his illness well.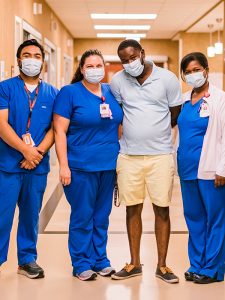 "When he came in, he was breathing on his own, but then they intubated him," she recalls. "It all happened so fast. In the course of two days, we had to look at other options."
Fortunately for Turrell, the other option was an extracorporeal membrane oxygenation (ECMO) life-support machine.
ECMO is used in critical care situations when a patient's heart and lungs need help performing their jobs so they can take time to heal. ECMO does this by pumping blood outside of the body to a heart-lung machine that removes carbon dioxide and sends oxygen-filled blood back to tissues in the body. Blood flows from the right side of the heart to the membrane oxygenator in the heart-lung machine, and then is rewarmed and sent back to the body.
This method allows the blood to "bypass" the heart and lungs, which gives these organs a chance to rest and heal. With recent generous donations through the Bon Secours Hampton Roads Foundation, our Maryview team members were able to be trained in this complex clinical technology.
For nearly two months, ECMO allowed Turrell's lungs to heal. The life-saving device worked in their place to keep his oxygen levels high.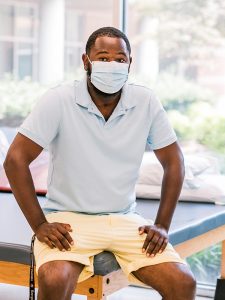 Daeja, a nurse herself, monitored his progress every day while he was on the ECMO device. Both Turrell and Daeja are thankful that Maryview Medical Center had the ECMO technology and trained team members were available when their family needed it most.
"I'm really grateful they had the care I needed at Maryview," Turrell shares. "A lot of people asked if I would have gone anywhere else, and I told them 'no.' There's no telling if I would have received the same care anywhere else as I got at Maryview."
Daeja knows it was the generosity of donors, the expertise of staff and life-saving equipment that saved her brother's life and helped him survive a serious lung illness.
"I was glad he went to Bon Secours," she says. "If he'd gone somewhere else, it could have been different. The ECMO machine was definitely a life-saving machine for him."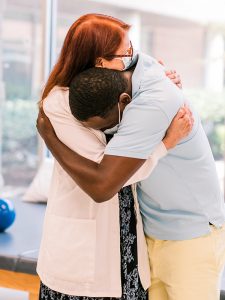 Although he doesn't remember much about the toughest part of his journey, our team members remember Turrell well. He was only the third patient who received ECMO in Maryview's cardiovascular intensive care unit. In July of this year, Turrell had an opportunity to visit the nurses and medical team members who saved his life.
"He was almost unrecognizable from his appearance as we remembered him," Suzzie Etheridge, BSN, RN, CCRN, director of inpatient cardiovascular intensive care and intermediate care at Maryview Medical Center, shares. "He still has some very small scars from tubes that he had while on life support, but he described his scars as 'battle wounds' that he wears proudly."
When Suzzie asked Turrell what he had been doing and how he has been feeling over the last several months, he explained that he works full-time in traffic control and has made a full recovery.
"I'm so proud to be a part of the Bon Secours ministry and to come to work each day knowing we are giving our best to the population we serve," Suzzie shares.
Learn about the health care services we offer at Bon Secours.