We recently teamed up with a local sports team to celebrate one patient's triumph over cancer!
Hudson Bethea was diagnosed with leukemia towards the end of 2018 and has been in and out of the hospital ever since, undergoing treatments to fight this blood cancer.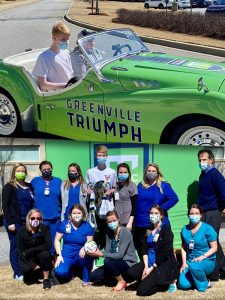 "I've never been a depressed person, but when you've been sick for a really long time or really weak, at times, it's hard and seems like it's never going to end," Hudson shares.
However, a little over two years later, he's finally wrapping up his treatment and getting ready to close this chapter. To celebrate, we reached out to the Greenville Triumph for a special surprise.
"In this line of work, we have a unique opportunity to comfort, laugh, cry, and even celebrate with our patients during an unfathomable period of time in their life," shares Kaitlin Bomar, RN, program coordinator for the Bon Secours Adolescent and Young Adult (AYA) Cancer program. "Hudson won our hearts from the beginning with his joyous demeanor and ability to keep us laughing. When he was finishing therapy, many staff shared the same sentiment of wanting to celebrate him."
The Greenville Triumph rallied with Hudson from nearly the onset of his diagnosis like they have done for many of our patients. Therefore, it was only fitting for our team members to invite them to help us celebrate Hudson's next milestone.
Hudson wrapped up his final treatment in January but had a follow up appointment on February 23. Unbeknownst to him, the Triumph team was there waiting when he arrived to offer up words of encouragement, pats on the back and even some take-home souvenirs to mark the milestone.
"We drove up and I was wondering why the Triumph was here," recalls Hudson, who almost walked by the celebration without stopping. "I couldn't believe it was for me! This is awesome!"
The Triumph even brought their official team vehicle, a fully restored 1961 Triumph TR3A convertible, which Hudson got to take a spin in around the parking lot.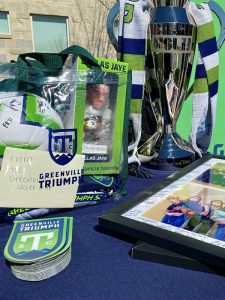 "It's incredible for him and super special for us as well," says Aaron Walker, one of the Triumph's midfielders. "He's part of the family, and he's been a fan since day one. He's had a tough journey and it's been amazing seeing him make such a turnaround."
Hudson has been a soccer fan his whole life, something the staff at the Bon Secours St. Francis Cancer Center picked up on quickly. Through the center's AYA program, staff often use outside interests to help motivate and support young patients who have their lives uprooted by the disease. They know addressing the psychological, emotional and even spiritual issues faced by patients can often change the trajectory of the disease, positioning patients for better outcomes.
"It can mitigate some of the alienation and some of the emotional issues that come along with a diagnosis. The difference it makes is hard to quantify, but when you see it at work, it's huge. You know it when you see it," says Hal Croswell, MD, director of the Bon Secours AYA program.
Through a support group set up specifically for AYA patients, Hudson was able to attend several Triumph soccer games and has come to form quite the bond with the team.
"Since I got diagnosed, basically all I can do is watch soccer. Through this group, I've been able to meet them and go to games, and afterwards they come up and talk to me. A couple of the players even came to see me in the hospital. It's so cool. I'm such a big fan," he says.
Hospital staff who have gotten to know Hudson over the years also came with a parting gift – two signed and framed photos. One will go home with Hudson while the other will be hung on the walls at the St. Francis Cancer Center as a sign of encouragement for those still making the journey towards remission.
Learn more about the cancer care and oncology services we offer at Bon Secours.