The holidays are here, a time about giving back to those in need. And at Bon Secours, we are thrilled to be doing just that by helping families in our Richmond community.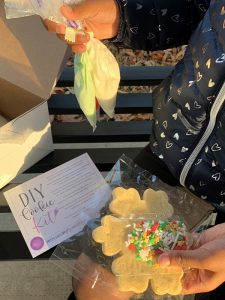 Last year, in place of a traditional Christmas party, this market donated hundreds of holiday meals to families in need around the area. This year, the team is proud and excited to continue this tradition.
"We are hopeful these meals will provide comfort and strength to families in need in our community this holiday season," Becky Clay Christensen, executive director of community health in our Richmond market, shares.
Given the unique circumstances of the COVID-19 pandemic that continued into this year, the team's usual holiday celebration was repurposed into a different type of celebration. This new celebration is one that fits the current environment in which we are living, while also fulfilling our ministry's mission of providing care to the poor, vulnerable and underserved.
Two weeks ago, volunteers distributed nearly 500 meals to various locations around the Richmond region. The family-packaged meals included two entrees, three sides, bread, dessert and a gingerbread cookie decorating kit for families to enjoy.
To help the team make this important community donation, we partnered with organizations such as YMCA of Greater Richmond, Safe Harbor, Family Lifeline and Friends Association.
The team also partnered with various elementary schools, including:
JB Fisher
Redd
Oak Grove
Cardinal
JL Francis
Walnut Hill
"We can't thank you enough for thinking of our students and families again this year," Pam Smith of the YMCA shares. "We appreciate the kindness and generosity of the Bon Secours team."
We are so thankful for support from our partners, as well as the support from our many volunteers. Bon Secours is also grateful for the resiliency of our providers and clinical team members as well as the way they continue our legacy to care for patients.
Learn about the health care services we offer at Bon Secours.