Today is World Health Day, a time to reflect on this year's theme of creating a "fairer, healthier world for everyone." While we are extremely proud of the current equity work in our communities, it is important for our ministry to always strive to expand these efforts as far and wide as we possibly can. 
The passion our very own Victor Agbeibor, MD, has for global mission work has helped us spread our mission across oceans and within the hearts of other practitioners. Read more about his important service here.
Ten years ago, Dr. Agbeibor, known as Dr. A by many, became program director of the Bon Secours St. Francis Family Medicine Program. When he took the job, his number one priority was starting a medical mission track. Within two years, the residency program had organized their first trip to Ghana.
"Having exposure abroad really helps you become a better physician," he explains. "I find that international experiences develop compassionate physicians who pay more attention to their patients as people."
Dr. A grew up in Ghana. When he was 18 years old, he received a scholarship from Russia to study medicine.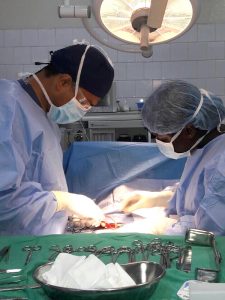 Three years into his program, a group of physicians from Alabama came to the hospital to give medical lectures. Being fluent in English and Russian, Dr. A was asked to be their translator for a week. This interaction would eventually lead him to move to the United States for his family medicine residency, where he met his wife and started a family.
Years later, Dr. A felt a calling to expand his medical skills so he could better help others. During this time, Dr. A and his wife decided to move their family to Nashville, TN, so that he could gain general surgery experience and skills at Vanderbilt Medical Center.
"We were going abroad a lot and I wanted to be able to help. I knew gaining surgical skills would facilitate that," he shares.
Now living in the Richmond, VA area, Dr. A uses his role as program director to serve others and give others a platform to do so as well. A group from Bon Secours and Virginia Commonwealth University (VCU) Medical School have teamed up to go to Ghana for several years now to provide comprehensive medical care and health education.
"Global mission work is part of what we do [at Bon Secours]," he shares. "Our group has built a positive relationship with the main hospital in Ghana. This has allowed for some amazing learning experiences for our clinicians during our trips, but it also benefits the recipients of the screenings from earlier in the week as they are brought in for any needed surgeries. The relationship between our team from Bon Secours and the local hospital also facilitates any patient follow-up that's needed."
Last year would have marked the team's seventh year in a row traveling to Ghana to provide medical care and build wells for rural communities so they have clean drinking water. However, the COVID-19 pandemic put these plans on pause.
"While we haven't been able to physically travel to Ghana to perform medical screenings… we have been readily available to our contacts in Ghana as consultants," explains Dr. A.
The team has supported their contacts from afar by sharing COVID-19 best practices and the latest technologies. This has included supplying literature to educate them on the importance of hygiene practices such as masking, handwashing and physical distancing.
During this last year, the team has also been gathering extra supplies for future trips. Dr. A shares that everyone is looking forward resuming their mission work as soon as it's safe to travel again.
"Residents have come back and decided to go into fellowships because of the impact of this program," Dr. A shares. "Others give back financially, year over year, supporting the continuation of the program."
Congrats again to Dr. A and his team for their efforts and amazing impact on world health.
Learn more about our mission as well as the health care services we offer at Bon Secours.