Markus Mines has been an emergency room nurse clinical coordinator at Bon Secours St. Mary's Hospital for a while now, a decade to be exact!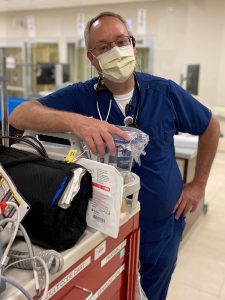 Nursing was a second career for Markus. However, a personal health care situation occurred when he was in high school that stuck with him. It illuminated the importance of having access to quality health care and the impact of nursing care.
Today, Markus plays an integral leadership role in our ministry. He served as charge nurse throughout the COVID-19 pandemic in St. Mary's adult emergency department (ED). Working evening shifts, predominantly, Markus has dedicated himself well beyond the call of duty. He not only addressed the influx of COVID-19 patients in the ED, he ensured his team was safe and emotionally supported.
Markus was also responsible for implementing new procedures in alignment with public health guidelines; such as developing new intubation processes with physicians to maintain staff safety and educating staff on ventilators and the COVID-19 disease process. Markus emphasized that his leadership is inspired by his colleagues' commitment to their patients and each other as well as his call to nursing.
Because of all his amazing work this past year, Markus was recently recognized at a Richmond Flying Squirrels baseball game as the evenings' Community Hero! The Squirrel's home game was designated as Front Line Workers Night and the stands were filled with doctors, nurses and health care workers.
Markus thanks his family for their love and support – his wife Ann, who is also a frontline health care worker, and his three children, Abigail, Madeline and Andrew.
Enjoy stories that celebrate our amazing Bon Secours nurses during Nurses' Month.
Also, learn about the health care services we offer at Bon Secours.