During National Hospital Week, we want to thank all of our team members who have been at the heart of our COVID-19 response efforts. Without these dedicated professionals in our hospitals and other medical facilities, our ministry would not be able to serve our patients in their greatest times of need.
Chaplains serve a very important role on our team. As a Catholic-based ministry, our mission is to extend the compassionate ministry of Jesus by bringing good help to those in need. Chaplains like Raymond Barnes provide spiritual care to our patients, their families and our staff every day. However, Raymond's daily schedule is far different now then it was two months ago.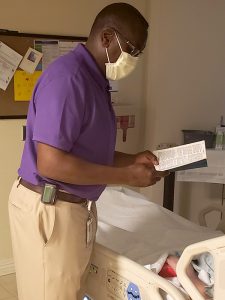 "It has been like a roller coaster, all depending on what the day brings," says Raymond, who serves as the chaplain at Bon Secours DePaul Medical Center.
Raymond has been in his role for the last 17 years and COVID-19 is like nothing he has seen before. He now wears a mask on the job. This virus is even changing the way he is able to counsel patients.
"Being in the ministry, we associate ourselves with closeness, and not being able to really get close with patients can be bothersome," Raymond shares. "If I have to put my hand on a glass door or whatever, I'm learning that my prayers are powerful enough to go through a glass door."
In addition to patients, Raymond is also still serving and comforting families who can't be with their hospitalized loved ones right now.
"I hear their concerns," he says. "I know they want to come to the hospital and visit the patients, but my message to them is stay home and let us do the work so we can protect you and your loved one."
During these trying times, one part of Raymond's job that has become very critical is making sure the health care heroes on the front lines of COVID-19 are handling everything well. He shares he has been spending a lot more time with staff members than before.
"Even though our staff, our nurses are coming in with a brave face, with a compassionate heart, I can still see they are worried about not knowing what is going to happen from minute to minute," Raymond says.
While none of us are certain what lies ahead in the coming months, Raymond knows that the hospital staff can face anything that comes their way if they stick together.
"We are here. We are in it and I thank God for the training I have had as a chaplain to prepare me for this."
Learn how you can send a personal thank you to our team members during National Hospital Week.