We are celebrating National Volunteer Week the best possible way this year – by announcing their gradual return to our Greenville, SC facilities!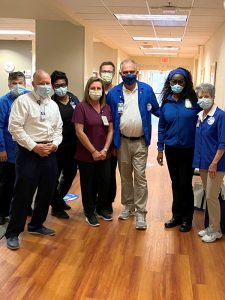 "There are no words really to express it. This is family to us – the doctors and nurses – and it gives us a sense of hope to be back and finally helping tend to patients again," says Feda Carmouche, who's been volunteering with Bon Secours St. Francis for the past 11 years.
On March 12, 2020, Feda and other volunteers received a call letting them know their program would be temporarily paused as a safety precaution due to COVID-19. Now, just over a year later with vaccines rolling out and case numbers declining, our health system is happy to be welcoming some of these volunteers back. We are leaving the door open for them to return as soon as they feel comfortable doing so.
Carmouche and Ginny Leaman became two of the first volunteers to return to their post on April 5, 2021. Brian Sinders wasn't far behind, though he managed to find ways to continue supporting frontline staff even when he wasn't able to be on site helping.
"I managed to get treats to the CT team periodically during the past year. I didn't want them to forget me!" Brian laughs.
The impact of the Bon Secours volunteer program wasn't easily forgotten. During an average year, volunteers donate more than 40,887 hours, which is time valued at $1,010,000. Ask any staff member, and they'll tell you the difference these men and women make during those hours is priceless.
"Our volunteers are truly an invaluable resource to our unit," says Tracy Hays, a nurse at St. Francis Downtown. "Without them, families of patients don't have a key resource to keep them updated and ensure they stay in the surgery center. Our whole PACU unit runs so much more smoothly from less phone calls to quicker discharge times when we have our precious volunteers."
It's not just the tasks they help with, but also the atmosphere they help create with their presence. Just ask the team members at St. Francis Therapy Center Patewood, where Daniel "Hawk" Hawkins recently returned to his volunteering duties.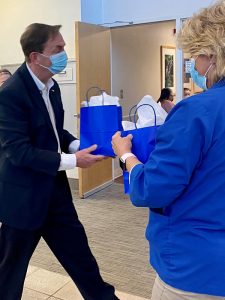 "He not only helps with minor duties around the clinic but acts as a greeter and a motivator to the patients and staff. This is especially true with anyone who appears to be struggling," supervisor Matt Van Vleet shares. "As he walks through the clinic, he lets everyone know that they truly matter."
During the time they couldn't be present for their volunteering duties, these dedicated men and women found other ways to contribute. Volunteer Linda Gale made port pillows for cancer patients. These attach onto the seatbelt to keep it from irritating the small port many patients have just beneath the skin to receive chemotherapy. In all, Gale was able to deliver nearly 100 pillows to the St. Francis Cancer Center.
Another team of volunteers helped put together collection kits for COVID-19 testing. They assembled nearly 27,000 kits containing the supplies needed by frontline workers doing inpatient testing for the virus.
"When we were first asked to help with this project, it gave us a sense of contributing something at a time when you couldn't contribute at all," explains volunteer Sandi Holmes.
Even those unable to contribute in a tangible manner found ways to support their Bon Secours family.
"The volunteers stood with us and prayed for our frontline staff and all other hospital staff who continued the fight against COVID-19. We are extremely thankful for their dedication and commitment to this ministry," says Susie Jeter, volunteer coordinator. "This is such an exciting time for this ministry and our volunteers as we begin to welcome them back."
More than two dozen volunteers are already slated to return in the near future, with others welcome to resume volunteering as soon as they feel comfortable doing so based on their own personal health, safety and comfort level.
Learn more about the volunteer programs we offer at Bon Secours.