Many of the people who battled COVID-19 and won are still in a fight that may be far from over.
"It was kind of scary," Bobby Nash recalls. "I was on the vent for about three to four days and I finally came out of it. However, it took me a little bit to get my feet back up under me."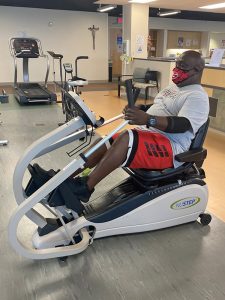 Bobby was hospitalized with COVID-19 in December of 2020. Even after being released from the hospital, lingering issues that resulted from his battle with the virus kept Bobby out of work for months.
And Bobby isn't alone. One of the unfortunate outcomes emerging from COVID-19 is something known as 'post-COVID conditions' – health issues that persist weeks or even months after someone is infected with the virus.
Health systems across the country are seeing an increasing number of patients looking to address those lingering symptoms. Therefore, we at Bon Secours launched a new program to do just this. It combines physical therapy and pulmonary rehab to help restore strength and balance as well as respiratory function.
"As we all know, COVID-19 has taken its toll on our communities and the people in it," Meg Bagwell, one of our physical therapists, shares. "We want to help improve outcomes and help people return to normal function. Both physical therapy and pulmonary rehab offer different benefits that, when working together, can truly help patients improve their deficits in a more efficient manner."
Since participating in our COVID-19 rehab program, Bobby has been able to return to work. He has also been able to put what he's learned into practice while on the job.
"We have three or four flights of steps and I try to use those instead of jumping on the elevator. However, I was getting short of breath. I'd have to stop and stand there 10 to 15 minutes just waiting to get my breath back. Now, I don't get out of breath as fast as I was, and when I do get a little winded, I do some of the breathing exercises they taught me. It really works!"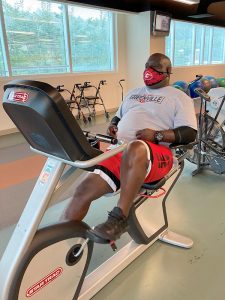 The evaluations done during therapy are also proof of Bobby's progress. In just six weeks' time, he went from doing 31 steps during a two-minute step test to doing 72 steps in the same time frame. Another test involves sitting then standing over and over for 30 seconds. In the beginning, Bobby could only complete the motion eight times in the allotted time, but now he's up to 19.
"In pulmonary rehab, we have seen Mr. Nash progress by keeping his oxygen saturation above 90% and he's been able to double his exercise intensity since starting," says Robbie Keefer, director of chronic condition management at Bon Secours St. Francis HealThy Self. "He's a prime example of putting in the hard work and seeing the fruits of his labor. We are all so proud of him."
While Bobby is still on the road to recovery, he now has hope that he will return to 100 percent and says that should inspire others who are still struggling.
"The rehab stuff is great. I'd advise anybody to do it," he recommends. "Meg pushed me and that motivated me to get myself back together. Just don't give up. You have all kinds of crazy thoughts running through your mind when you're in the hospital, and you don't know how it's going to go. But these ladies and the rehab have made a huge difference."
If you or someone you know is still experiencing symptoms months after being diagnosed with COVID-19, contact your primary care provider to refer you to this program.
Also, getting vaccinated for COVID-19 is the best way you can avoid severe illness and protect those around you. Learn more about our COVID-19 vaccine efforts.