After a hospital stay filled with plasma treatment, fluids and antibiotics, Judy Lark is now back home. At 90 years old, she won her battle with COVID-19.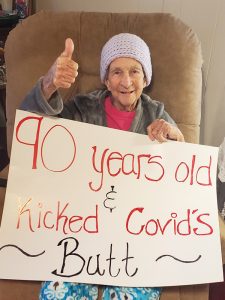 "She is the strongest woman I know," Judy's granddaughter states. "She has shown so much strength and perseverance through recovering from this horrible virus. We are just so happy to have her back home with us."
A few days prior to her admission to the hospital, Judy was experiencing tiredness, a cough and no appetite. She also felt very weak.
"She didn't experience a fever during this time," her daughter, Teena Williams, states.
Teena quickly decided it was time to take Judy to the hospital. She ended up staying at Bon Secours – St. Francis for six days.
"Every other time that my mother has had to be admitted to the hospital, we've always taken her to Bon Secours," says Teena. "They provide quality care, every employee is hospitable, and it is a wonderful experience. I always know that she will get the best care and love during her stay."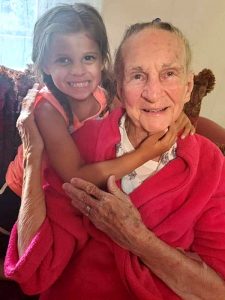 For those who have a loved one battling COVID-19 in the hospital, Teena encourages them to stay strong.
"I was not able to visit my mother during her stay. However, I constantly stayed in contact with the nurses and doctors that were providing professional care to her…. They kept me informed of the treatment my mother was receiving during her stay and that helped me feel more at ease…"
And for those individuals who don't know when to seek professional care for COVID-19, Teena suggests the sooner the better.
"This virus is a very serious issue," she shares. "It can start off with symptoms of a common cold. However, the moment the individual or caretaker thinks something isn't right, they need to immediately seek professional care. Seeking help quickly, I feel, increases the chances of success."
Stay updated on what Bon Secours is doing related to COVID-19.
Have you recovered from COVID-19? Learn how you can help others, like Judy, by donating convalescent plasma.