The COVID-19 pandemic has changed so many things this year, including how our team members serve our patients and communities. However, what has remained constant throughout is the compassionate, quality care they provide each and every day.
This holiday season, we are grateful for all our health care heroes. Their bravery and sacrifice over the recent months has been parallel to none. In fact, we have a few special shout outs to some stellar team members in our Richmond market. Their amazing work during the pandemic has earned them some truly incredible statewide and national recognitions.
Special Recognition for Heroism During the Pandemic, The Leapfrog Group
Bon Secours St. Mary's Hospital Intensive Care Unit (ICU) Team (pictured above) has been awarded "Special Recognition for Heroism During the Pandemic" by The Leapfrog Group. This group is an independent, national watchdog organization of employers and other purchasers focused on health care safety and quality. This award recognizes teams that have demonstrated an extraordinary commitment to patient safety amidst the COVID-19 crisis.
The St. Mary's Hospital ICU Team was recognized specifically for creating a way to connect COVID-19 patients who were sedated and on a mechanical ventilator with their loved ones. Through this project, called "Be There Bears", family members of the hospital's sickest COVID-19 patients could record a personal message over the phone that was then placed into a stuffed animal teddy bear. A team member would then play the message for the patient in the ICU. Each day, as these nurses entered their patients' rooms, the first thing they would do is play the recording via the bear. This team was also recently recognized by the Richmond Times-Dispatch for "Making a Difference."
100 People to Meet in 2021, Virginia Business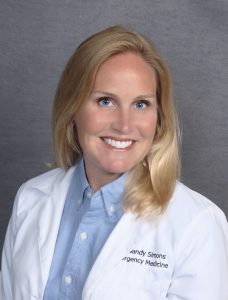 Dr. Sandy Simons (pictured left), an emergency room physician at Bon Secours Richmond Community Hospital, has been on the frontlines of the COVID-19 pandemic. Dr. Simons was recognized by Virginia Business in their 100 People to Meet in 2021 list. She is identified on this list under the category of "angels." Additionally, Dr. Simons was featured on the cover of Virginia Business' July 2020 issue, which featured an exclusive interview on what it's been like working on the frontlines.
Beyond the Call of Duty for COVID-19, International Hospital Federation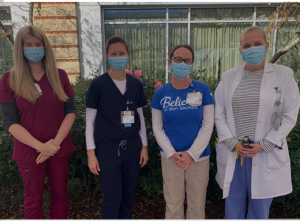 The Bon Secours Palliative Care Team in Richmond (pictured right) has received a special recognition for going "Beyond the Call of Duty for COVID-19" from the International Hospital Federation (IHF). This organization's review committee found that this team demonstrated outstanding efforts in responding to the COVID-19 pandemic.
2020 Nurse of the Year, Virginia Nurses Foundation
The Virginia Nurses Foundation has recognized Michelle Vaughan as a 2020 Nurse of the Year. This award is in honor of the incredible work she did while working with the Bon Secours St. Mary's Hospital Intensive Care Unit (ICU) Team to get the Be There Bear project started.
Michelle has since moved out of the area, but we thank her for her incredible creativity and contributions to our ministry over the years. The St. Mary's ICU Team continues her work connecting families with loved ones who are in the ICU during the pandemic.
We are in awe of the work all our team members have done this year during the COVID-19 pandemic. However, the work continues.
On behalf of our frontline workers and health care heroes, we urge you to continue wearing a face mask, practicing social distancing and washing your hands.
Stay updated on what Bon Secours is doing related to COVID-19.