There are many ways that people give back to the Bon Secours Community Hospice House out of gratitude for the care provided to a loved one. Some bring their specially trained therapy dogs to visit with patients. Others create flower arrangements for patient rooms with beautiful flowers donated by Trader Joe's. And others make wonderful prayer blankets for patients.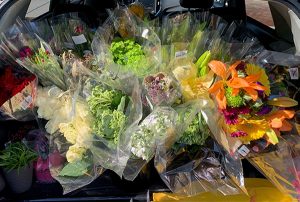 Doris Ann Kane (pictured above, second from left) is one of these individuals who crochet prayer blankets. She has made more than 50 blankets with brightly colored yarn to let people know how much they are cared for and loved.
Ms. Kane makes these blankets in memory of her mother who was a patient at the Community Hospice House. Her hope is that the people who receive them will feel "wrapped in peace and love."
The feelings of comfort and warmth have been even more important during COVID-19 when many families were not able to be at the bedside of their loved one. Patients enjoy receiving gifts at a time when they may be able to communicate with very few words. The prayer blankets are special to families too, who like to take them home as keepsakes.
Becke Chamberlain (pictured above, far right) has made more than 200 colorful prayer blankets. Before retirement, her company donated the yarn to provide blankets for veterans. In addition to the Community Hospice House, Becke continues to crochet blankets for those who have served in the military, as well as for children and others.
Aparna Ranjan, MD and Nikki Villamera, PCT, share that, "our patients love the prayer blankets. The handmade blankets are crafted with love and are a gift of love. The bright colors bring hope to the patients and their families."
Learn about the health care services we offer at Bon Secours.