The Major Family has a lot to be thankful for this holiday season. Last month, it took less than one minute for their family to nearly double in size.
Mandy, a Bon Secours employee, and her husband, James, welcomed three little girls into the world on Friday, October 25. Baby Ada came first at 7:59 a.m., followed quickly by sisters Cely Ann and Syble at 8 a.m.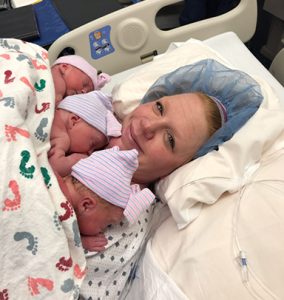 "Dr. Celeste Beaudoin was able to do more of a 'gentle cesarean,'" Mandy recalls. "She delayed cord clamping, per my request, and used a clear drape so I could see each of my girls' births. It really made me feel more a part of the experience and made it a more intimate delivery experience."
Not only did the delivery go smoothly, but the three newborns didn't require any time in the NICU. This meant they were able to stay in the room with their parents.
"Triplets, by the numbers, come early and need NICU. I thought we'd have to change OBs, because I had no idea Bon Secours could handle multiples," says James. "I was wrong. They're not just capable – they rocked it from admission to discharge."
Having the triplets in their hospital room made it easier for mom and dad to introduce the trio to their older siblings. The couple also has an almost 4-year-old, Hamp, and an almost 2-year-old, Burke. Mandy says they're both completely enamored with their new baby sisters and can often tell them apart better than she and James.
"We had actually decided we were done having children, but the Almighty had other plans for our family," Mandy laughs.
In fact, James thought his wife was playing an April Fools trick on him when she told him the news. Not only was the pregnancy a surprise, but multiples do not run in either Mandy or James' families. The couple was definitely not expecting what they saw on the ultrasound during their first appointment.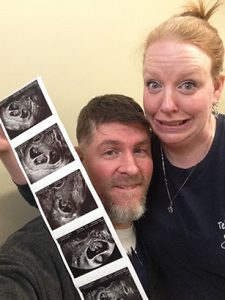 "When I looked over at the screen I asked, 'do I see 3?!'" Mandy remembers. "I began laughing and crying simultaneously. I was both overjoyed and terrified."
Mandy and James are so thankful for the Bon Secours staff that helped them through the delivery process. Taking care of three newbies is very different from taking care of a single, and the staff was right there to help the family learn and understand what to expect.
"Everyone at some point came to personally congratulate us," recalls James. "Even the kitchen staff took a personal interest, asking how 'triplet mama' was feeling and if they needed to send up extra snacks. You don't get that kind of attention other places. We felt like royalty."
In addition to praising everyone who took care of them during their stay, Mandy says she couldn't have done it without Ann Cooper, their nurse. Mandy has known Ann for over a decade. They met on the telemetry unit at St. Francis Downtown, where Mandy still works as a nurse.
"She has been my nurse with all of my kids. She even was able to give all five of them their first baths," Mandy says about Ann.
Mandy has been an employee of Bon Secours St. Francis Health System for 17 years. She is following in the footsteps of her mother, who worked in various nursing roles at Bon Secours for 25 years.
"My mom is definitely the reason I wanted to work for St. Francis. It's always been a part of my life." says Mandy. "I remember my dad taking me and my brother to the hospital to have lunch outside on the picnic tables with mom on her break. I look forward to a day when James and my littles can come have a picnic lunch with me."
Mandy loves working at Bon Secours because of the friendships it has brought into her life. She also loves that the ministry allows her to be open with her faith and pray with her patients.
"I am proud to be a part of the Bon Secours family and love being a nurse. It's a calling and I know it's where God wants me to be," she says.
Now back at home, the Major family is setting in and finding their new normal. While the holidays can bring stress and chaos, the Majors are choosing to focus on their blessings this year.
"I'm still not sure if we're physically, emotionally, or financially ready for our new additions, but we will make it," says James. "We have healthy babies, and that's the most important thing."