Heather Freeman has been running since grade school. A few miles here and there have been a great way for her to de-stress and spend some quality time with her canine companion, Miggy.
This past year, Heather decided to take this casual hobby to the next level.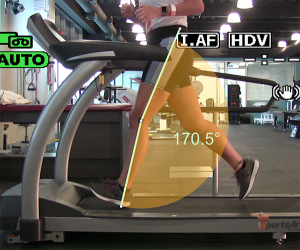 "I decided I wanted to try and take on a half marathon," she shares. "Then, I met a girl while running who suggested we do a full marathon, and I told her she was crazy. But next thing I know, I'm training for a full marathon."
Running may seem straightforward to most. However, Heather knew she might need some help getting to her goal of being able to run long distances.
"For an occupation, you don't just start without any teaching or education. If you want to be a teacher or a doctor, you go to school then college and learn all you can," she says. "Same thing with your hobbies – why would you just start running and not research it?"
Heather enlisted Alex Volfson, one of our physical therapists, in the research process. Through our running analysis program, he can evaluate whether someone has efficient running mechanics, good muscle strength and endurance.
"We often think that physical therapy services are only needed after someone is injured or had surgery, but our research has evolved. We now have great tools that we can utilize through our clinical examination that can prevent injury," Alex says. "By looking at things like muscle tone, movement mechanics and range of motion, we can identify movement faults and muscle imbalances. From there, we can develop a treatment plan for those impairments before an injury occurs."
Heather said the analysis was eye-opening, providing beneficial feedback almost immediately.
"I had done some shorter races in the past where I had sprained my ankle. Like most people, I didn't get it checked out at the time and just let it heal on its own," she says. "Alex tested my strengths and turns out I have a lot of weakness in that ankle from never getting it treated. So, he's taught me some stuff to work on that."
So how does our running analysis program work?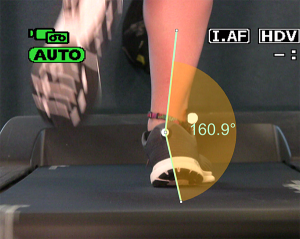 First off, you'll meet with one of our physical therapists to go over your medical history and what your goals are. This is followed by a physical exam to test your strength in various areas such as your feet, hips and legs.
All of this is then followed by the actual running analysis. This involves running on a treadmill between 10 to 20 minutes while wearing reflective markers that can help identify joint angles more precisely during your run. A video of your run is also recorded from various angles.
"Afterward, we sit down and analyze the mechanics frame by frame identifying striking pattern, stride length, ankle, knee, hip and pelvic angles," Alex explains. "This combined with the initial evaluation helps us identify areas that need to be strengthened, motion restrictions, posture including body lean and regions that may be overloaded due to inefficient mechanics."
The whole process takes about an hour and is designed to help everyone – from the new runner to the experienced one.
"Too many times people think that running is potentially not for them or have been told to stop running. While those situations exist, frequently it is premature and there are many things that can be done to allow the individual to continue running," Alex shares.
While you may be ready to run after just one visit, there's nothing stopping you from returning for multiple sessions. Alex often follows up with patients via email as well to ensure they can continue to meet their goals. Heather has been back to see him a few times and the experience always pays off.
"After doing my 20-miler, I had an injury. I was terrified to tell Alex because I thought he was going to bench me. That's every runner's nightmare after doing all that training. But the opposite happened – he actually brought me in and figured out how to get me to race day without making more injuries."
The things Heather has learned about her running have not only prevented other injuries, but also helped her shave a whole minute per mile off her running time.
If you're interested in trying our running analysis program in Greenville, SC, call 864-400-3630 to make an appointment.
Also, learn about the orthopedic and sports medicine services we offer at Bon Secours.