It was just over a year ago that our team at Bon Secours Memorial Regional Medical Center swung golden sledgehammers during a "wall breaking" ceremony, kicking off the transformation of the West Pavilion.
And now the renovation is nearly complete! In November, leaders from our ministry as well as Hanover County celebrated the near completion of the renovation of this two-story, 48,000-square-foot space with a ribbon-cutting and open house.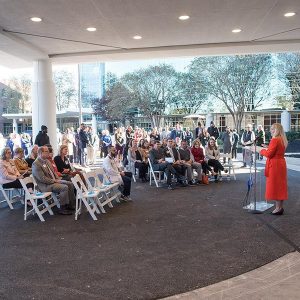 While it's not yet open to patients, we wanted to give you a sneak peek at the new spaces our patients will be able to enjoy should they need to stay in our orthopedic or neuroscience units next year.
The West Pavilion includes 43 inpatient beds and will be dedicated to orthopedic, spine and neuroscience patients. By creating additional bed capacity in these units in the West Pavilion, patients who need immediate critical care for incidents, including stroke and heart attacks, can be seen quicker by alleviating the burden on the emergency department.
Complete with state-of-the-art equipment, the pavilion will improve our continuity of care by bringing together physical therapy and rehab services that can be utilized by both orthopedic and neuroscience inpatients in one central location within the hospital.
Additionally, Memorial Regional Medical Center was able to leverage the "rehabilitation footprint" that already existed in the building to house an expansive gym. It will be used not only for orthopedic patients but will also allow the team to create community space for its neuroscience patient population.
"Memorial Regional Medical Center has always provided quality, compassionate orthopedic and stroke care to our patients, and the West Pavilion expansion solidifies our commitment to continue caring for our community," Scott Vota, DO, a neurologist at Memorial Regional Medical Center, shares. "By renovating the West Pavilion, we are not only creating new spaces to care for our patients, but we are also able to alleviate pressure that's been placed on units elsewhere within the hospital to support the needs of our growing community."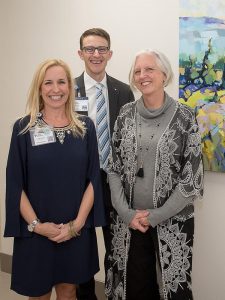 The biggest mistake that can be made when designing a health care space is to not include the teams who will actually be working in the space every day in the design process. So, our clinical team has worked closely with the design team to create a patient care space to ensure it is centered on the patients, but also meets the needs of caregivers.
As our team helped designed the West Pavilion, artwork was a key focus to make this a healing environment.
We worked with Noyes Art Designs to cultivate a theme which recognizes the tradition of the Sisters of Bon Secours and blends that with the heritage of Hanover County as well as the Commonwealth of Virginia. In the space you'll find agriculture, rivers and more colorful artwork that flows throughout the building. The team also had a custom piece commissioned by a Virginia artist, Trisha Adams, that hangs in the front lobby.
"We are thrilled to open our West Pavilion soon, which will allow us to improve our continuity of care for both orthopedic and neuroscience patients requiring a hospital stay," Leigh Sewell, president of Bon Secours Memorial Regional Medical Center, shares. "We celebrate this milestone and look forward to continuing the important work on our expansion as we seek to better meet the growing needs of the greater Hanover County region."
With the West Pavilion renovation nearly completed, focus on the rest of the existing hospital space will continue so the Memorial Regional Medical Center can continue to expand to meet our growing community's health needs. The completion of the West Pavilion renovation is only one part of a bigger expansion underway at this facility, which received COPN approval in 2020 and includes an expansion of the ICU and medical/surgical units. The remaining expansion work is expected to be completed in 2023.
Learn about all the health care services we offer at Bon Secours.