We hosted our first-ever Richmond Market Physician and Advanced Practice Clinician Awards event on March 22. This event not only celebrated our compassionate, hard-working providers, but it also showcased how they are going above and beyond the call to serve. Also, how they are truly living our ministry's Mission to provide good help to those in need.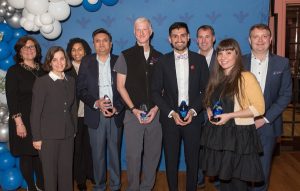 Prior to the ceremony, providers were able to nominate their peers in one of several categories, including the Community Service Award, Quality Award, Core Value Award, Engagement Award, Mission Award and Sister Elizabeth Durney Award. They could also submit nominations for APC of the Year and Physician of the Year, which were both awarded for each of our Richmond market's seven hospitals and the medical group, as well as for the market overall.
Our Provider Engagement – Wellness Committee received more than 140 nominations from peers and interdisciplinary team members. The winners were chosen from there.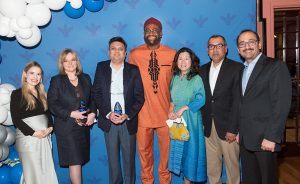 In total, 35 providers were recognized from across the market and we could not be prouder to celebrate them along with all our physicians and APCs who work tirelessly to improve the health of our communities.
"Being a health care provider is not just a job; it is a calling, a passion that requires hard work, perseverance and an unwavering commitment to the health and well-being of others," Mike Lutes, our Richmond market president, shares. "Our physicians and advanced practice clinicians have made a tremendous difference in the lives of our patients, their families and our community, and we are proud to celebrate and recognize them in this way."
Congratulations to all of our winners!
Community Service Award
Salvatore Bavuso, MD
Paula Young, MD
Brennan Carmody, MD
Quality Award
Ann Herrens, MD
Brody Wehman, MD
Kerry Boyer, NP
Core Value Award
James Gill, NP
Mark Dixon, MD
Daphne Bazile, MD
Engagement Award
Andrew Bolton, MD
Tejas Raval, MD
Julie Grishaw, NP
Mission Award
Katherine Lietz, MD
Jacob Budny, DO
Sabine Cyrus, NP
Sister Elizabeth Durney Award
Lang Liebman, MD
Marc Flickinger, MD
APC of the Year
Richmond Market: Michele Hughes, NP
Medical Group: Kelli Baker, NP
Memorial Regional Medical Center: Jana Hanny, PA
Rappahannock General Hospital: Denise Schindler, NP
Richmond Community Hospital: Alysha Nakoneczny, NP
St. Francis Medical Center: Ann Schoenewies, NP
St. Mary's Hospital: Barrett Taylor, PA
Southern Virginia Medical Center: Amanda Temple, NP
Southside Medical Center: Lindsay Morris-Zetts, NP
Physician of the Year
Richmond Market: Vikas Pathak, MD
Medical Group: Harold Green, MD
Memorial Regional Medical Center: Chris Crowell, MD
Rappahannock General Hospital: Jennifer Termeer, MD
Richmond Community Hospital: Omer Bangash, MD
St. Francis Medical Center: Omar Ahmed, MD
St. Mary's Hospital: Muktak Mathur, MD
Southern Virginia Medical Center: Theopolis Gilliam, MD
Southside Medical Center: Sami Shayya, MD
Learn about the health care services we offer at Bon Secours.