According to the CDC, about 24,000 babies are sadly stillborn in the United States each year.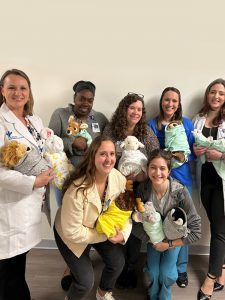 The Birth Place at Bon Secours Mary Immaculate Hospital recently received a donation from Weighted Angels, a program that provides comfort to families experiencing pregnancy and infant loss in eastern Virginia.
This nonprofit organization was formed in 2018 by a group of bereaved mothers looking to provide comfort to families experiencing stillbirth and/or infant loss. Weighted Angels helps keep these families from leaving the hospital with empty arms.
Their recent donation to our ministry will enhance and grow Mary Immaculate Hospital's perinatal bereavement program.
On Feb. 26, we teamed up with Weighted Angels and a local family to gather and honor baby Sienna with a donation, bringing further awareness to perinatal loss. Families who have lost a child receive a package that includes a Weighted Angel that matches the weight of the child that was lost.
"When our daughter, Sienna Grace, was pronounced stillborn during her delivery, we were given a Weighted Angel that was close to her weight of 8 pounds 10 ounces," Steve and Crystal Midlik share. "Holding that weight has brought us comfort, and we want that to continue for other families who suffer the loss of a child."
At Mary Immaculate Hospital, we define ourselves as the "birth place of choice" because while in our care, we want your birthing experience to match your preferences. Our experienced obstetric staff and neonatology staff provide a special brand of maternity care that blends evidence-based care with personalization and compassion.
The Birth Place proudly offers: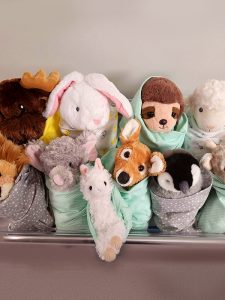 Eight fully equipped, private labor and delivery rooms, two operating rooms and three triage beds
An in-house neonatology specialist 24/7, with a seven-bed Neonatal Intensive Care Unit (NICU) that cares for infants 28 weeks and older
An experienced nursing staff in labor and delivery, newborn, neonatal intensive care unit and post-partum care
14 mother-baby postpartum care rooms
Educational and support classes
Inpatient international board-certified lactation consultants
The Birth Place at Bon Secours Mary Immaculate Hospital will soon complete a major renovation. Flooring, paint, lighting, ceiling tiles, case work in patient rooms and nursing station, new furniture, updated art and bathroom upgrades throughout the entire labor and delivery unit and our postpartum unit will wrap up in May of 2023.
Learn more about the maternity and birthing care services we offer at Bon Secours.