Having a baby can be the most exciting yet terrifying and stressful time in a woman's life – especially if she doesn't have insurance. Thankfully, expectant mothers in this situation in the Richmond, VA region now have options.
As part of our mission to extend the compassionate ministry of Jesus by improving the health and well-being of our communities, Bon Secours has partnered with Urban Baby Beginnings to provide social support services to uninsured mothers. They will now have access to critical maternal health care.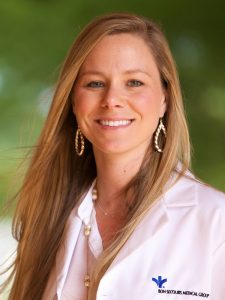 In March, Urban Baby Beginnings was the recipient of a $50,000 grant from the Jenkins Foundation. This grant was awarded to the organizations with the purpose of increasing collaboration and continuing to support uninsured women through Bon Secours OB/GYN practices.
According to Marcee Vest, MD, an attending physician at St. Francis Family Medicine Center (pictured left), this grant "will enable the two organizations to collectively serve 150 mothers who otherwise would not be able to receive social support programming."
Through this partnership, Bon Secours and Urban Baby Beginnings now offer an open-access clinic which provides access to physicians, nurses, and community agents who specialize in maternal and postpartum health. This support, along with the combined efforts of Urban Baby Beginnings' social and educational support programs, provides accessibility to doulas, perinatal health workers, lactation consultants and licensed nurses. All these efforts are aimed at addressing the barriers that cause isolation and poor outcomes amongst expectant and postpartum families.
"It is our pleasure to partner with Urban Baby Beginnings to offer critical maternal health care to uninsured expectant mothers," shares Kerrissa MacPherson, a women's and children's services coordinator for Bon Secours. "This programming focuses on caring for the whole person which we know can change outcomes for the lifetime of the participant and their dependents, affecting generations to come."
"This program and partnership offers holistic prenatal care and social support based on cultural humility and empowerment," adds Stephanie Spencer, executive director for Urban Baby Beginnings. "Additionally, it breaks down barriers to care by providing immediate access points and consistent care regardless of income."
Learn more about our mission, vision and values at Bon Secours.

Are you an individual in the Richmond, VA area without health insurance? Learn more about the options available to you through the Bon Secours Care-A-Van, our free mobile health clinic and our financial assistance program.