If you live in the Chester area of the greater Richmond region, help is on the way! Our ministry is currently building a new 24,000-square-foot emergency center to provide easier, more convenient access to care in this medically underserved community.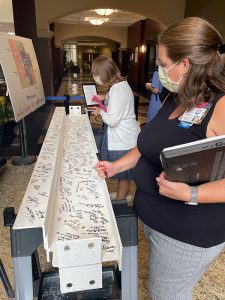 Bon Secours – Chester Emergency Center will be located along U.S. Route 1 at 12021 Jefferson Davis Highway. Additionally, it will be approximately 19 miles from St. Francis Medical Center and 16 miles from Bon Secours Southside Medical Center.
To celebrate these efforts, some of our leaders and team members gathered at Bon Secours St. Francis Medical Center last month to sign a structural beam that will be placed in the new emergency center.
"This structural support beam that we are all gathered here to sign this week is representative of the support Bon Secours will be providing for our Chester community through this new emergency center," Joe Wilkins, president of Bon Secours St. Francis Medical Center, shares. "We are pleased to be increasing access to emergency and ambulatory services for this community. This center will allow us to expand the compassionate care we provide with easier, more convenient access for both walk-in patients and emergency medical services partners."
Once construction is completed, the Chester Emergency Center will house:
Separate public and ambulance entrances
An 11-bed emergency department
A medical imaging center, including CT, MRI, ultrasound, and radiography that will serve both scheduled outpatients and ED patients
Occupational health
Direct admission capabilities
A ground-breaking ceremony took place earlier this summer, featuring Chesterfield Fire and EMS as well as local elected officials. The anticipated opening date of the new one-story facility is summer 2022.
Learn about all the health care services we offer at Bon Secours.