An idea was born when fire and EMS personnel informed our leadership in Richmond, VA of a growing need for health care in a rural area of Chesterfield County. Now, this idea is one step closer to becoming a reality following a recent groundbreaking!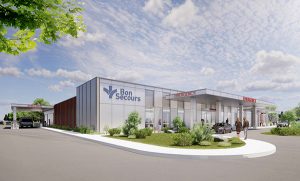 With the current working name of Bon Secours – Chester Emergency Center, this planned facility will bring emergency care and imaging services to a medically-underserved region next year.
A few years ago, representatives presented data to our team that showed the Chester area had the lowest percentage of times when an emergency transport unit was available to respond in the entire region. Additionally, the data indicated the region's over 65 population was expected to grow by 50 percent from 2015 to 2025, which will increase the demand for emergency services.
Additionally, Chester residents currently have to travel extended distances to access emergency care and imaging services.
"Faced with anticipated increases in emergency medical services demands even before the COVID-19 pandemic, we knew we had to find a solution to ensure the Chester area had greater access to quality health care," shares Edward "Loy" Senter, Jr., chief of Chesterfield County Fire & EMS. "We are grateful that Bon Secours answered the call to address the needs in the medically underserved community, and we were happy to attend the groundbreaking to celebrate an exciting milestone for a facility that will improve access to health care in the greater Chester area."
Bon Secours – Chester Emergency Center will be an 11-bed freestanding emergency department and imaging center. It will serve as an extension of Bon Secours St. Francis Medical Center and will be staffed with medical personnel who provide the same services and level of care found in a traditional hospital.
"We are committed to expanding access to emergency services to meet the needs of our rapidly growing community and look forward to establishing much-needed health care services in this medical underserved community," says Joe Wilkins, president of Bon Secours St. Francis Medical Center. "This new emergency center will provide easier, more convenient access to compassionate emergency care for both walk-in patients and emergency medical services partners in the southern part of our region."
Learn about all the health care services we offer at Bon Secours.